UFC 279 on Saturday night was all set to be headlined by a main event of Nate Diaz vs. Khamzat Chimaev, but after a weight issue with Chimaev, Diaz will now be taking on fellow UFC veteran Tony Ferguson.
The card will be headlined by the Diaz vs. Ferguson bout, Chimaev will be facing Kevin Holland, and Li Jingliang will face Daniel Rodriguez.
While Diaz was set to be a heavy underdog against Chimaev, oddsmakers believe he has a much better chance against Ferguson.
As it stands, Diaz is a slight underdog at +110, with Ferguson coming in at -135.
Check out the full list of public and handle percentage for the entire UFC 279 card, via BetMGM.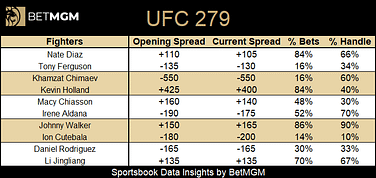 The last time we saw Diaz in The Octagon, he lost via unanimous decision to Leon Edwards in June of last year. Ferguson suffered a knockout loss just four months ago at the hands of Michael Chandler.
"I don't consider this [fight] a quick turnaround," Ferguson said via the UFC website. "I feel really confident. I had a talk with [UFC president Dana White], told him my expectations of myself [and] followed through. I saw him at my buddy's boxing event, and they could feel that I was pretty solid, so they gave me the opportunity at 170."
Both Diaz and Ferguson have lost each of their last two fights, with Ferguson losing four in a row. But even so, the betting favorite is as confident as ever heading into the star-studded card on Saturday night.
"My wife tells me, 'When are you going to start training 100 percent,'" Ferguson said, "I haven't trained 100 percent in years…I sparred for the first time in about five, six years. So, I've done a lot of things and taken myself out of my comfort zone. Which is easy for me, but a lot of other people, they don't expect it. So, I saved [my best tricks] like a magician for a very long time, for the times that matter the most. And that's now."