The sports weekend gets off to a strong start this evening with a nine-game NBA Friday slate. With over half of the league in action, there will certainly be plenty of betting opportunities to pursue in the NBA player props market. Make sure to include the redesigned Awesemo OddsShopper Tool in the NBA handicapping process today. Thanks to this tremendous tool, finding the best player props and bets is as simple as three quick steps: Filter, sort, bet. With help from the OddsShopper Tool, let's explore three must-bet prop predictions for Friday's NBA action.
New Awesemo betting expert Sean Blazek has found two bets he loves tonight and wrote about them at length in his NBA Betting Picks article for Friday night.
Best NBA Player Props & Betting Picks Tonight
With the revamped OddsShopper, finding the best NBA betting player props is fast and simple. All users have to do is filter the prop selections, sort the page, and find the best pick to bet. The process is extremely quick and highly effective. See below for an example of how to use the tool for one of tonight's featured NBA player props.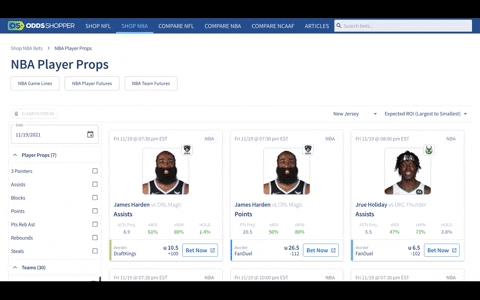 Boston Celtics point guard Marcus Smart is capable of impacting games in more ways than scoring the basketball. However, he has been largely struggling with his shot through the first month of the new season. Smart comes into Friday's nationally televised matchup with the Lakers averaging only 9.5 points per game. Not only is the consensus NBA player props line of 11.5 2 full points higher, but OddsShopper shows that some sportsbooks list Smart's points total a notch lower. He is coming off an 8-point effort on Wednesday that saw him shoot just 30% from the field.
Awesemo's projections have Smart's point total much closer to his current per-game average at 9.55. As a result, this under prediction has both a high expected win percentage (69%) and expected ROI (31%).
In all honesty, Jonas Valanciunas probably does not get enough recognition as one of the NBA's best big men. His game is almost strictly about scoring inside and grabbing rebounds, but Valanciunas does both as well as anyone. After a big season with the Grizzlies last year, Valanciunas has kicked off his tenure with the Pelicans in style. He put together a run of 11 consecutive double-doubles spanning the months of October and November, and he enters tonight's game averaging 19 points and 12.9 rebounds per game.
That being said, it has now been three games since Valanciunas managed to secure 10 rebounds. Awesemo expects him to not only snap that streak tonight but also to exceed his current per-game average. Thanks to OddsShopper, bettors are able to home in on favorable plus-money odds on Valanciunas to grab more than 12.5 boards tonight. In a matchup against a shaky Clippers frontcourt, Valanciunas should be able to have his way on the interior. Awesemo has assigned an 18% expected ROI to this Valanciunas prop bet for tonight.
With Luka Doncic officially listed as doubtful for tonight's game, the window of opportunity opens for bettors to play over on NBA player props involving Jalen Brunson. With Doncic also missing Wednesday's game against the same Suns that the Mavericks will face tonight, Brunson came up huge on the stat sheet. In 37 minutes he posted 18 points, nine rebounds and nine assists. With Doncic in the lineup for much of the season, Brunson has still distributed five assists per game this year. Awesemo's projections love the plus-money odds on Brunson to exceed 6.5 helpers this evening.
Be sure to check in with OddsShopper in order to find the best value before making NBA betting picks. At the time of writing, the tool shows a 24-cent discrepancy in the odds on this Brunson prop across the market. At the optimal +124 price, Awesemo gives this wager a terrific expected ROI of 31%.