The second of Monday night's nationally televised NBA doubleheader pits the Philadelphia 76ers against the Sacramento Kings. For Philadelphia, this marks the continuation of a six-game West Coast road trip. The revamped Awesemo OddsShopper Tool is the perfect resource to help find the best NBA player props and betting picks for tonight's 76ers – Kings matchup. Tonight Awesemo has multiple must-bet projections for 76ers guard Tyrese Maxey.
With help from OddsShopper, the following column aims to find optimal odds and discusses some positive ROI prop bets for Maxey in tonight's matchup.
NBA Player Props & Betting Picks | Tyrese Maxey
With OddsShopper, finding the best NBA betting player props is fast and simple. All users have to do is filter the prop selections, sort the page, and find the best pick to bet. The process is extremely quick and highly effective. See below for an example of how to use the tool for one of tonight's featured NBA player props.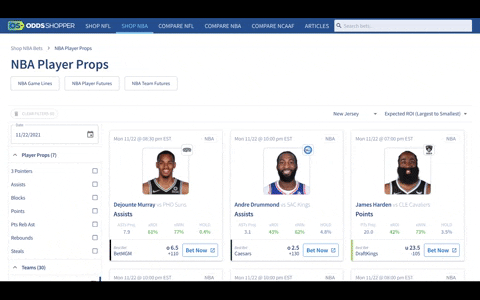 Even with center Joel Embiid set to remain sidelined for the 76ers tonight, Awesemo's NBA player props projections believe in taking a shot on plus-money odds for Maxey to finish with fewer than 4.5 rebounds. Relative to Maxey's season rebounding average of 3.7, a play to the under makes sense. Furthermore, Maxey has only eclipsed the line once on this road trip and only three times in the 7e6rs' last 10 games overall. Philadelphia figures to have a front-court advantage tonight even without Embiid in the lineup.
Awesemo has set Maxey to record 4.07 boards exactly in tonight's game. The under on this prop bet is expected to hit 62% of the time. Be sure to check in with OddsShopper for update prices as not all sportsbooks are offering plus-money value on this bet.
Once again, Awesemo's projections prefer playing Maxey to go under his points prop tonight. The 21-year-old has been on a scoring tear of late, notching 22 points or more in five of the last six games. He also has a pair of 30-point games to his name over that same stretch. However, Maxey's season scoring average is still only 18.4 per contest. Perhaps the Sacramento Kings will show up with some added intensity on the defensive end tonight as well after Luke Walton was fired. With Joel Embiid set to miss and Tobias Harris also expected to sit out this matchup, the Kings will be able to shift much of their defensive attention to Maxey. Awesemo has him finishing nearly two points lower than the NBA player props line with a projection of exactly 19.71 points.
After connecting on multiple 3-point field goals in five of six games, Maxey was held to just one conversion from beyond the arc on Saturday. He does not necessarily attempt a ton of triples on a per-game basis, but Maxey is shooting better than 42% from downtown on the season. Against a Kings defense that has allowed opponents to hit on over 34% of their 3-point tries this season, Maxey is worth an even-money wager to knock down multiple triples tonight. While Awesemo's projections do not believe that Maxey will reach his point total, the fact that the 76ers will be shorthanded could lead to more 3-point attempts. Be sure to reference the OddsShopper Tool for this and all of your NBA betting picks. An 11-cent disparity exists in the betting market on this prop.