In the second NBA game televised on ESPN tonight, the Philadelphia 76ers will travel to take on the Golden State Warriors. While the 76ers have struggled as of late, the Warriors have found a way to keep their strong play going. Be sure to utilize the Awesemo tools for all the best bets. Let's take a look at the best 76ers vs. Warriors NBA betting picks for tonight using the Awesemo OddsShopper.
NBA Best Bets for 76ers vs. Warriors Tonight
Philadelphia 76ers vs. Golden State Warriors
Date: Wednesday, Nov. 24, 2021
Time: 10 p.m. EST
Venue: Chase Center — San Francisco, Calif.
Coverage: ESPN
76ers vs. Warriors NBA Betting Picks + Odds Shopping
Finding the most profitable NBA betting picks has never been easier. The newly updated OddsShopper is like the Amazon of sports betting. Simply filter, sort the page and find the NBA best bets within seconds, as seen below.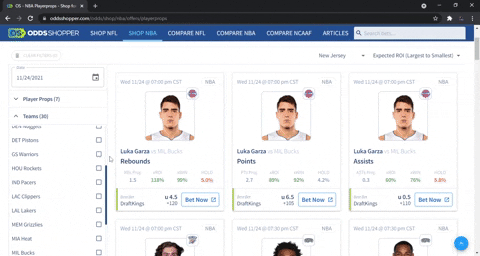 Stephen Curry Over 5.5 Assists (-120, FanDuel)
When sorting the prop bets by expected win percentage, this is the prop that comes to the very top. OddsShopper gives this prop a 73% chance to go under and a 34% ROI, projecting Stephen Curry for 6.9 assists. This prop is set strangely low, as Curry is averaging 6.6 assists this season and 6.8 over his past five games. With Jordan Poole having back-to-back strong offensive performances, Curry also totaled assist total of six and eight. Look for him to go over again tonight.
Draymond Green Under 8.5 Rebounds (-138, FanDuel)
This rebounding prop for Draymond Green is set a bit too high considering he is averaging only 7.9 rebounds this season. He has gone under this rebounding total in three of his past four games. With how the Warriors play at home and the 76ers play on the road, there also is a chance Green will end his night a bit early due to the game being firmly in control. There are too many signs pointing to the under to ignore it. OddsShopper gives this prop a 67% chance to go under and a 16% ROI, projecting him for 7.6 rebounds.
Jordan Poole Over 17.5 Points (-115, FanDuel)
Jordan Poole has been great this season, and he has been even better these past two games. He has back-to-back games of over 30 points, and he has a good chance to keep the momentum rolling tonight. Poole has been stronger at home this season, averaging 19.1 points on his home floor, compared to 17.4 on the road. The 76ers are a worse team on the road, allowing home teams to shoot 45.2% overall and 36.1% from 3-point range. Look for both trends to continue tonight. OddsShopper gives this prop a 60% chance to go over and a 13% ROI, projecting him for 19 points.