You can sign up from OddsShopper with Caesars Sportsbook promo code AWE1000 and get your first bet paid back if it loses up to $1,000! With a wide range of sports, competitive odds and a user-friendly platform, Caesars Sportsbook offers an immersive and exciting betting experience for new and experienced users. From football to basketball, soccer to cricket, you can explore various sports and bet on various markets. With advanced statistical analysis, consideration of team form and market trends, Caesars Sportsbook ensures the quality of their odds.
This Week's Caesars Sportsbook Promo Code
| | |
| --- | --- |
| 💰 Caesars Sportsbook Promo Code | AWE1000 |
| 💵 Caesars Sportsbook Bonus Amount | $1,000 |
| 🤔 Caesars Sportsbook Promo Description | Get paid back up to $1,000 if your first bet loses |
| 🌎 Caesars Sportsbook Legal States | AZ, CO, IL, IN, IA, ks, la, md, ma, mi, nv, NJ, ny, OH, pa, tn, VA, wv, dc, wy |
| ☞ Caesars Sportsbook Bonus Link | Bet Now! ➚ |
| ✅ Caesars Sportsbook Bonus verified until | 12/31/2023 |
21+ T&CS, TIME LIMITS, AND EXCLUSIONS APPLY. GAMBLING PROBLEM? CALL OR TEXT 1-800-GAMBLER.
Caesars Sportsbook Promo Code Details
Using Caesars Sportsbook promo code AWE1000 will unlock $1,000 to start off your 2023 NFL Season!
This promotion is offered on the first cash wager you place that settles at Caesars Sportsbook. So, if you place multiple wagers when you first sign up, whichever bet settles first will count as your qualifying wager. Knowing this, you should place one large wager after signing up and wait for it to settle before spreading out multiple bets.
Your first qualifying wager must settle within thirty (30) days of being placed, so don't use this promo on a futures bet.
Super Boost Markets, Round Robins, Bonus Bets and Profit Boosts do not qualify for this promo and will void your bonus offer.
Your Bonus Bet must be used within fourteen (14) calendar days from the date it is awarded, or that Bonus Bet will expire.
Playing at Caesars Sportsbook allows you to earn Tier and Rewards credits. These can be redeemed for discounted hotel stays, Sportsbook bonus bets, and other perks at Caesars Resort and Casino locations.
Caesars Sportsbook Pros & Cons
✅
PROS
Live in all states where online sports betting is legal
Favorable promos for new users
Great loyalty program
App functionality is top tier
Daily odds boosts
❌
CONS
Rarely offers deals for existing users
Fairly pedestrian in terms of sports offerings
Iffy customer service
Quick Facts About Caesars Sportsbook
Caesars Sportsbook is operated by Caesars Entertainment, an established casino and entertainment company.
Caesars Entertainment acquired William Hill Sportsbook in April 2021 for $3.7 billion.
Since the acquisition, most U.S. William Hill products have been rebranded as Caesars Sportsbook.
Caesars Sportsbook is the official partner of the Cleveland Cavaliers
Caesars Sportsbook has a loyalty program called Caesars Rewards that allows you to earn points on your bets and then redeem those points for prizes.
Not what you're looking for? Find our comprehensive list of the best sportsbook promo codes! ➚
A Guide to Signing Up and Using Caesars
Signing up with Caesars Sportsbook is an easy and swift process that can be accomplished in a few simple steps. All you need to do is register through a trusted partner, such as OddsShopper. Within minutes, new users can sign up, make a deposit and start earning their bonus bets.
Step 1: Sign Up
Visit Caesars Sportsbook and enter the state/province you live in. Click "Get Started" on the following page and our Caesars Sportsbook promo code should automatically be added.
Step 2: Personal Details
Enter your email address, password and phone number. Then on the next page, enter the following information:
First and last name
Date of birth
Last four digits of social security number
Home address
Step 3: Accept the Terms
Click "Submit" to accept terms and conditions.
Step 4: Deposit
Make a deposit of at least $10 using the approved options. Transactions can take up to 15 minutes for transmission, and the maximum cumulative deposit amount is $500 per day.
Step 5: Place Bets
After funding your account, you can start betting on the sports and events you enjoy. Discover various markets, select your desired bets, enter the stake amount and confirm your wagers. Caesars offers a user-friendly interface that makes it easy to navigate through different sports and betting options.
Looking for ways to maximize your profits? Compare odds with our best-in-class projections to get the most out of your sports betting experience! Check out OddsShopper Premium ➚
Caesars Sportsbook Review
Here at OddsShopper, we analyze every aspect of the most popular sportsbooks to provide everything you need to know before signing up. Caesars Sportsbook was our favorite to review due to its long history in the gambling scene. The world of sports betting has changed greatly since Caesars Palace first opened its doors in 1966, and we wanted to see how the product has managed to evolve. To do this, we went through the entire sign-up process ourselves to get first-hand experience. We also searched for user feedback from reliable sources like Reddit and user reviews from the App Store and Google Play. The results were mostly positive, though we did identify some weak points with the overall betting experience at Caesars Sportsbook, including issues with customer service. Read along to learn more.
What is Caesars Sportsbook?
Caesars Sportsbook is an online and mobile sports betting platform that allows users to place bets on various sports events. It is operated by Caesars Entertainment, one of the largest casino and entertainment companies in the United States. Caesars Sportsbook offers various sports betting options, including traditional wagers like moneyline, point spread, totals, prop bets and futures bets.
The platform provides a user-friendly interface where customers can browse and select from various sports and betting markets. Users can place bets on popular sports such as football, basketball, baseball, soccer, hockey and more. Additionally, Caesars Sportsbook offers live in-game betting, allowing users to place bets while the games are in progress.
Caesars Sportsbook also provides features like cash-out options, where users can settle their bets before the event has concluded, and promotions and bonuses to enhance the betting experience.
Caesars Sportsbook Betting App Experience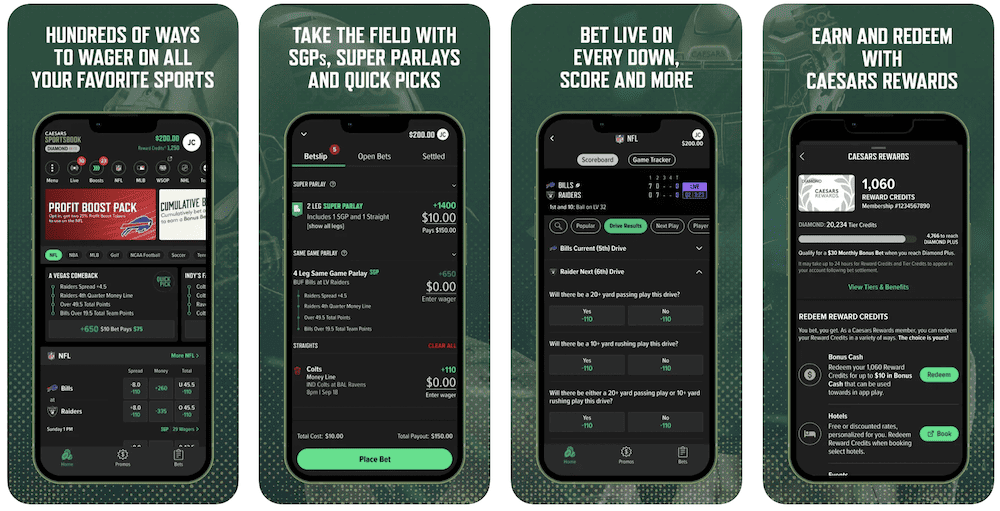 Caesars Sportsbook's mobile application is one of the best in the industry. With its sleek and user-friendly design, the app boasts a clean and modern interface. It offers remarkable speed and responsiveness, even during peak usage times. Available for both iOS and Android devices, the Caesars app ensures a seamless and optimized betting experience on your mobile device.
Design and layout
The first thing you see when you open the Caesars home page is the promos. A banner at the top of the page features a slide that begins with Caesars' first bet offer, then subsequent slides are odds boosts from top sporting events of the day. Then just below that is a quick breakdown of some recommended bets.
After that, the app layout is pretty straightforward, with game odds for various sports in a scrolling format covering the front page and navigation icons at the top of the screen.
Once you are on a sports page, the layout is largely the same, with quick picks at the top and further lines as you scroll down.
Navigation
The icons at the top of the home page allow you to navigate to live bets and boosts right off the bat, and then all the sports Caesars offers are included in this top section as well. You have to slide through to get to most of the sports, but navigating this way is still fairly simple. The only real negative was that it was not immediately obvious how to bet player props — you have to click the specific game to see those offerings rather than get a full sample of player props in one place.
There is also a search function that has some issues. For example, if you click "enter" immediately after a search, it will not pull up results. You have to wait for the results to come up from your search and click one of those.
Caesars App Features
Live betting: Caesars offers live betting, allowing you to place bets on sporting events already in progress.
Odds boosts: Caesars puts these front and center and separates them by sport to help you find the best boosts.
Caesars Betting Options
Caesars offers a wide variety of betting options, including:
Moneylines: Moneylines are bets on the winner of a sporting event.
Spreads: Spreads are bets on the margin of victory in a sporting event.
Totals: Totals are bets on the combined score of a sporting event.
Props: Props are bets on specific events or outcomes within a sporting event.
Parlay: Parlay bets are bets that combine multiple bets into one bet.
Future: Futures are bets on a team or player result down the road.
Live Bets: Live bets are bets made as the game is going on.
Sports and Leagues
American football
Australian football
Baseball
Basketball
Boxing
Cricket
Cycling
Darts
Golf
Hockey
Motorsports
Rugby
Soccer
Table Tennis
Tennis
UFC/MMA
Caesars Odds Quality
The odds provided by Caesars Sportsbook are carefully calculated, considering various factors to ensure their quality. Here is a breakdown of Caesars Sportsbook odds quality and the factors they use to calculate their odds:
Statistical Analysis: Caesars Sportsbook employs statistical analysis to assess the performance and historical data of teams, players, and events. This includes factors such as previous match outcomes, head-to-head records, individual player statistics and team performance metrics. By analyzing these data points, Caesars Sportsbook can estimate the probabilities of different outcomes accurately.
Team/Player Form: The current form of teams or players plays a significant role in odds calculation. Caesars Sportsbook considers recent performances, including winning streaks, recent results, injuries, suspensions and other relevant factors to evaluate the probability of success for each team or player.
Home/Away Advantage: Caesars Sportsbook factors in the home or away advantage that teams or players may have. Home teams generally have a higher chance of winning, and Caesars Sportsbook adjusts the odds accordingly to reflect this advantage.
Market Demand and Betting Trends: Caesars Sportsbook pays close attention to market demand and betting trends to ensure their odds are aligned with customer preferences. By analyzing the betting patterns and monitoring the wagers placed by their users, Caesars Sportsbook can adjust the odds to balance their book and manage the overall risk effectively.
Competition Analysis: Caesars Sportsbook conducts thorough competition analysis to evaluate the overall strength of teams or players in a given event. They consider factors such as league standings, recent results, head-to-head records and individual/team strengths and weaknesses. This analysis enables them to create odds that accurately reflect the competitive dynamics of the event.
News and Information: Caesars Sportsbook considers the latest news and information surrounding teams and players, including injuries, suspensions, lineup changes and other relevant updates. This information helps them adjust the odds promptly to reflect any changes that might impact the event's outcome.
While these factors provide insights into the calculation process of Caesars Sportsbook odds, it's important to note that their specific methodology might involve additional factors or proprietary algorithms not disclosed to the public. Nevertheless, Caesars Sportsbook aims to provide high-quality odds that reflect the probability of different outcomes, ensuring a fair and enjoyable sports betting experience for their users.
Caesars Sportsbook Customer Service
Generally speaking, Caesars gets positive reviews from customers. Payouts are usually timely, and most of all, players have great things to say about Caesars' promos, bonuses and rewards.
Here are some direct examples of positive user experiences with Caesars from various sources like the App Store and Reddit:
"Winning bets are paid incredibly quickly, sometimes before the game has even ended. And, one handy tool is being able to see a high-level play-by-play of the game in progress."
"The main draw of using Caesars is the promos and rewards are unparalleled. Odds Boosts are solid."
However, reports of Caesars customer service being hard to reach are not uncommon. Here are a few specific examples of issues with Caesars customer service:
Delayed or denied payouts: Users have reported instances where their payouts were either delayed or denied without any clear explanation provided.
Technical difficulties: Some users have reported lag or bugginess with the Caesars app or website, especially when the sportsbook is launching in a newly-regulated state.
Long wait times for customer service: A number of users have expressed frustration with contacting customer service, occasionally never getting in touch with them at all.
Contact Options
Caesars Sportsbook offers a variety of contact options, including:
? Live chat: Caesars offers 24/7 live chat support by clicking the "Chat Now" button on the Contact Us page.
☎️ Caesars Customer Service Number: Caesars has a 24/7 customer service support line.
Conclusion
Caesars Sportsbook provides a comprehensive and thrilling online sports betting experience for new users. With competitive odds, a wide range of sports and markets, and a user-friendly platform, Caesars Sportsbook ensures that you have everything you need to enjoy the excitement of sports betting. Their commitment to quality odds, statistical analysis and market trends ensures a fair and rewarding betting experience. Use our Caesars Sportsbook promo code today and embark on your sports betting journey with confidence.