Sleeper Fantasy is a revolutionary platform that takes fantasy sports to new heights. Whether you're an avid football fan or passionate about other sports, Sleeper offers an immersive and innovative experience for DFS and season-long leagues. The new Sleeper Picks DFS app offers real-money pick 'em style DFS contests similar to some of the best DFS apps like PrizePicks and Underdog Fantasy. Sleeper stands out from the pack by offering payout multipliers up to 100x! For a limited time, new players who sign up for Sleeper Picks can get their first deposit matched up to $100 by using Sleeper Fantasy promo code OS2. Follow along as we review the Sleeper Fantasy app and Sleeper Picks DFS.
This Week's Sleeper Fantasy Promo Code
| | |
| --- | --- |
| 💰 Sleeper Promo Code | OS2 – Play Now! ➚ |
| 💵 Sleeper Promo Amount | $100 |
| 🤔 Sleeper Bonus Description | Get Payouts up to 100X and a First Deposit Match up to $100 |
| 🌎 Sleeper Legal States | AL, AK, AR, CA, CO, DC, FL, GA, IL, KS, KY, MD, MA, MN, NE, NM, NC, ND, OK, OR, RI, SC, SD, TX, UT, VT, WV, WI, WY |
| ☞ Sleeper Promo Link | Play Now! ➚ |
| ✅ Sleeper Bonus verified until | 9/25/2023 |
MUST BE 18+ (21+ MA & AZ, 19+ AL, NE). CONCERNED WITH YOUR PLAY? CALL 1-800-GAMBLER OR VISIT NCPG
Find comparisons of the best DFS apps like Sleeper, Underdog and PrizePicks ➚
Sleeper Promo Details
Sleeper offers the best payouts in the daily fantasy sports world, with opportunities to win as much as 100x your money! And before you dive in, sign up through OddsShopper and get a first deposit match up to $100.
Sleeper Fantasy Pros & Cons
✅
PROS
Several different ways to play fantasy sports on one site/app.
Modern take on season-long fantasy, with much more customizable scoring for fantasy football.
Stresses collaborative element with chats and squads.
Solid take on pick 'em daily fantasy .
❌
CONS
Small range of sports — no season-long fantasy baseball.
The interface is a little busy.
No PayPal option for deposit.
Fewer customer service options.
Quick Facts About Sleeper Fantasy
Sleeper was founded in 2017 as a site for season-long fantasy leagues.
One of Sleeper Fantasy app's main features is its chat- and collaboration-focused app, allowing users to work together or trash talk their opponents as they desire.
The Sleeper app added a DFS style pick-'em format that allows you to win up to 100x your money playing against the house.
Sleeper provides mock drafts, ADP, analysis and rankings for season-long predraft processes.
Sleeper offers a variety of customizable scoring and draft options, as well as keeper and dynasty leagues, allowing users to make their leagues their own.
Sleeper also offers Daily Drafts, where users draft teams and compete in head-to-heads for cash prizes.
Sleeper Fantasy App Review
Sleeper's newest pick 'em format is similar to that of PrizePicks and Underdog. Loughy will break down the entire Sleeper App and let you know if this is the next best pick 'em platform on the market.
A Guide to Signing Up and Using Sleeper
Step 1
Begin the process by clicking on this link, which will direct you to the Sleeper Fantasy app. Once you're there, navigate to the login screen and proceed to sign up by clicking on the green button located on the right side.
Step 2
Provide essential signup details, such as your email address, username and password. It's important to choose a username that you're satisfied with since it cannot be modified later on.
Step 3
If the Sleeper promo code is not already filled in, enter "OS2" in the PROMO CODE section before clicking Sign Up. This step ensures that you receive your bonus.
Step 4
The final step is to participate in a contest by entering it!
What is Sleeper Fantasy?
Sleeper is a popular fantasy sports platform that offers a modern and innovative approach to fantasy sports leagues. With a primary focus on fantasy football, Sleeper provides a range of features and functionalities that enhance the fantasy sports experience for users. It has also gained a dedicated following among daily fantasy sports enthusiasts who seek a fresh and immersive experience with Pick 'em and Daily Draft contests.
Where is Sleeper Fantasy Available?
Sleeper is legal to use and play for season-long leagues in all states, but if you want to win real money on the Sleeper Fantasy app, that will have state restrictions depending on the game you're looking to play.
Sleeper Picks is available in Alaska, Arkansas, California, Colorado, Florida, Georgia, Illinois, Kansas, Kentucky, Massachusetts, Minnesota, Nebraska, New Mexico, North Carolina, North Dakota, Oklahoma, Oregon, Rhode Island, South Carolina, South Dakota, Texas, Utah, Vermont, Washington DC, Wisconsin, and Wyoming.
Sleeper Daily Draft is available in Alabama, Alaska, Arkansas, California, Colorado, Florida, Georgia, Illinois, Kansas, Kentucky, Massachusetts, Minnesota, Nebraska, New Mexico, North Carolina, North Dakota, Oklahoma, Oregon, Rhode Island, South Carolina, South Dakota, Texas, Utah, Vermont, Washington DC, West Virginia, Wisconsin, and Wyoming.
Sleeper currently doesn't have any paid-entry contests of skill available in Arizona, Connecticut, Delaware, Hawaii, Idaho, Indiana, Iowa, Louisiana, Maine, Maryland, Michigan, Mississippi, Missouri, Montana, Nevada, New Hampshire, New Jersey, Ohio, Pennsylvania, Tennessee, Virginia, and Washington.
Sleeper App Experience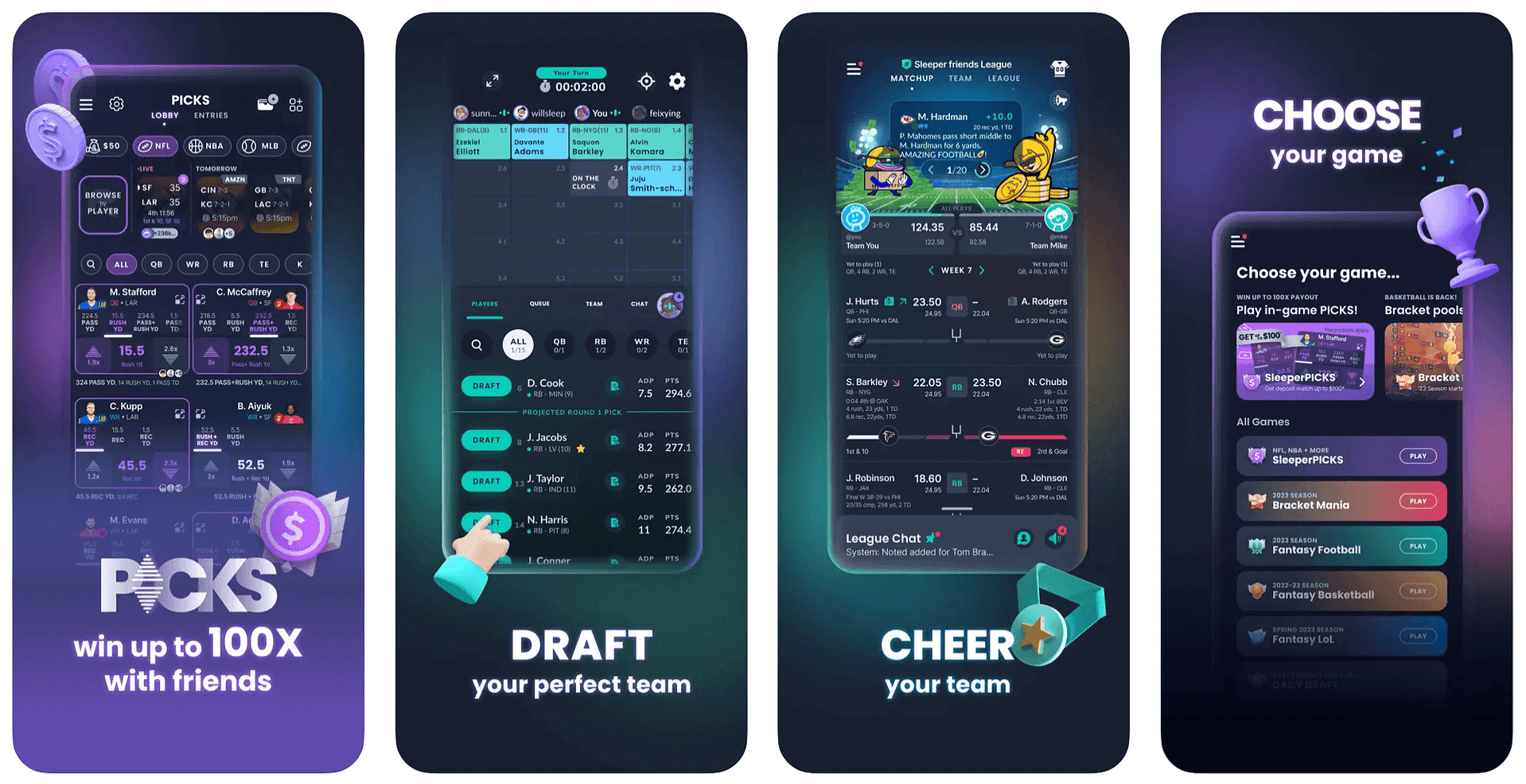 Sleeper offers a wide variety of contests, and the app's design and navigability are a key part of its success. Below we will go over how the app is laid out and how to move between the different types of games Sleeper offers.
Design and Layout
The Sleeper app design is sleek and smooth. If playing Sleeper's daily fantasy picks, the lobby screen has the sports at the top, with the various browsing options below. Browse by player or game, and then select the statistic your desired more/less play. If browsing by player, then all players with a line will appear in boxes below. Obviously, if browsing by game, the number of players for a given more/less statistic is much more refined. Like other pick-'em sites, Sleeper requires at least two more/less plays for an entry.
Sleeper also places an emphasis on community chats and collaborative gaming, so the "Squad Chat" appears at the bottom of the screen at all times in the lobby. A collapsible menu at the top left shows the other Sleeper offerings, including chat options, channels you may be a part of, mock drafts and season-long fantasy leagues. Season-long fantasy is Sleeper's bread and butter, so that takes up the majority of this side menu.
Navigation
Finding Sleeper's daily fantasy contest among the season-long games is a bit unclear at first — it is listed under Picks. Once there, though, navigation between daily fantasy pick-'em games, daily fantasy drafts and season-long fantasy is pretty easy. The side menu allows you to switch between the two quickly.
Picks are fairly straightforward — click on player's more or less for the statistic, choose at least two, then click View Entry at the bottom of the screen. An entry slip will pop up, where you select the dollar amount you wish to play and it shows how much you stand to win with the multiplier for the pick added. Then click Submit Entry.
As far as searching through players in the Picks lobby, it is for the most part straightforward — scroll through players or select the game from which you want to choose players. However, there does not appear to be a search function, nor do players appear to be alphabetized, so it is a bit of a crapshoot searching through the mass of options. The better navigation is sorting by game.
Sleeper Fantasy Options
Sleeper is most popular for its season-long fantasy sports, but it also provides daily drafts in which you can draft teams and compete in head-to-heads for cash, as well as a classic pick-'em-style game where you select a player to go for more or less than the listed line.
Here is a list of all of Sleeper's offerings:
Sports and Leagues
Season-Long Fantasy Basketball
Season-Long Fantasy Football
Season-Long Fantasy League of Legends
College Basketball
College Football
MLB
NBA
NFL
NHL
Sleeper Customer Service
Sleeper offers customer support through various channels, including email and social media. Users have reported receiving timely responses to their inquiries and finding the customer service team helpful in addressing their concerns or issues. The company also maintains an active presence on platforms like Twitter, where they engage with users and provide updates.
Here are some positive reviews from Sleeper users made on sites like Reddit and the Android app store:
"I'm HUGE on league activity and integrating the chat into the league process is just so seamless it's almost asinine that no one else ever thought to do it."
"Devs are very responsive and are always releasing high quality updates based on their users feedback."

Player feedback from Reddit and Google Play
That said, some users have had a few issues with the app, mainly reporting problems with functionality at times.
A few of the problems users had included:
Loading, freezing and crashing issues with the app
Bugginess/lag with rosters here and there
Lack of a customer service line can cause issues with timely customer support
Contact Options
💬 Live chat: Sleeper offers 24/7 live chat support by clicking the "Chat Now" button on the Help Center page.
📧 Email: Sleeper email support is available 24/7 at support@sleeper.app, though response times vary.
Conclusion
Sleeper is a cutting-edge fantasy sports platform that revolutionizes the way fans engage with their favorite sports. With its innovative features, customizable league settings and interactive elements, Sleeper offers a dynamic and immersive experience for both season-long and daily fantasy sports enthusiasts. Whether you're a seasoned player or new to fantasy sports, Sleeper provides a user-friendly interface and a range of tools to enhance your league experience. Join the Sleeper community today and take your fantasy sports experience to the next level.
Find More DFS App Reviews and Promo Codes