PrizePicks has emerged as one of the best DFS apps that offer a unique and engaging way to enjoy your favorite sports, especially for fans living in states that have not legalized online sports betting. As an official partner, we have teamed up to offer an exclusive PrizePicks promo code. You can claim this promo code for PrizePicks below that will offer you a first deposit match up to $100 plus one FREE month of OddsShopper Premium. With OddsShopper Premium, you will gain premier access to proprietary market data and insider tactics crafted to dominate fantasy DFS pick 'em competitions – a $99.95 value that will pay for itself if you actively use our DFS optimizers and sports betting tools!
This Week's PrizePicks Promo Code
| | |
| --- | --- |
| 💰 PrizePicks Promo Code | OS10 – Play Now! ➚ |
| 💵 PrizePicks Bonus Amount | $100 |
| 🤔 PrizePicks Promo Details | Get a $100 Instant DEPOSIT MATCH & 1 FREE MONTH OF ODDSSHOPPER Premium |
| 🌎 PrizePicks Legal States | AK, AL, AR, AZ, CA, CO, DC, FL, GA, IL, IN, KS, KY, MA, MI, MN, NE, NM, NC, ND, NY, OK, OR, RI, SC, SD, TX, UT, VT, VA, WI, WY |
| ☞ PrizePicks promo code Link | Play Now! ➚ |
| ✅ PrizePicks promo verified until | 9/25/2023 |
MUST BE 18+ (21+ MA & AZ, 19+ AL, NE). CONCERNED WITH YOUR PLAY? CALL 1-800-GAMBLER OR VISIT NCPG
PrizePicks Promo Code Details
For a limited time, PrizePicks and OddsShopper are teaming up to bring new users an awesome new offer! All you need to do is sign up through OddsShopper (promo code OS10), and you will get an instant deposit match up to $100 AND one free month of OddsShopper's Premium Package — a $99.95 value!
OddsShopper Premium with PrizePicks Optimizer
OddsShopper Premium helps you make better decisions by calculating the expected value. It uses odds from the best sportsbooks globally to produce true odds. Then, it compares those true odds to supported DFS apps like PrizePicks and Underdog Fantasy. This verification helps you find edges and make informed decisions.
You can utilize OddsShopper's Entry Builders to optimize lineups for PrizePicks, Underdog, and Jock MKT to get recommended entries. You can also add or swap out the plays you want. After that, you can review the expected value and win rates.
Find the Best DFS Apps and more sites like PrizePicks ➚
PrizePicks Pros & Cons
✅
PROS
New and interesting way to play daily fantasy.
Allows for multi-sport entries.
Several ways to win multi-leg entries, unlike a typical parlay.
Offered in more states than any sportsbook since it is not legally considered to be a betting site.
Designed with app use in mind, so the layout is simple and straightforward.
❌
CONS
Does not allow players from the same team on one ticket
The fantasy points system is unique and requires understanding.
PrizePicks set which players are available for entries, so selections can be limited
Here are some additional quick facts about PrizePicks
PrizePicks was founded in 2015 and is headquartered in Atlanta.
It is currently the largest DFS platform in North America, and it offers services to over 60% of United States residents.
PrizePicks is not a sportsbook and therefore does not have a 21-year age requirement in most states. Instead, the minimum age to play PrizePicks is 19 (though the age is 21+ in Arizona and Massachusetts).
PrizePicks has two types of multi-pick entries: Flex Play and Power Play. Flex Plays payout in smaller amounts than Power Plays but offer safety nets if only some of the picks in the entry hit. Power Plays are more like traditional parlays in that all picks have to hit to win — no safety nets, but also a higher payout.
PrizePicks has partnerships with the Atlanta Falcons, Atlanta Braves, Miami Marlins and NASCAR.
A Guide to Signing Up and Using PrizePicks
Signing up and claiming the promo code for PrizePicks is a straightforward and speedy process that takes just a few steps as long as you register through OddsShopper. New users can swiftly sign up, make a deposit and get their deposit matched within minutes.
Step 1: Enter Your Email and Promo Code for PrizePicks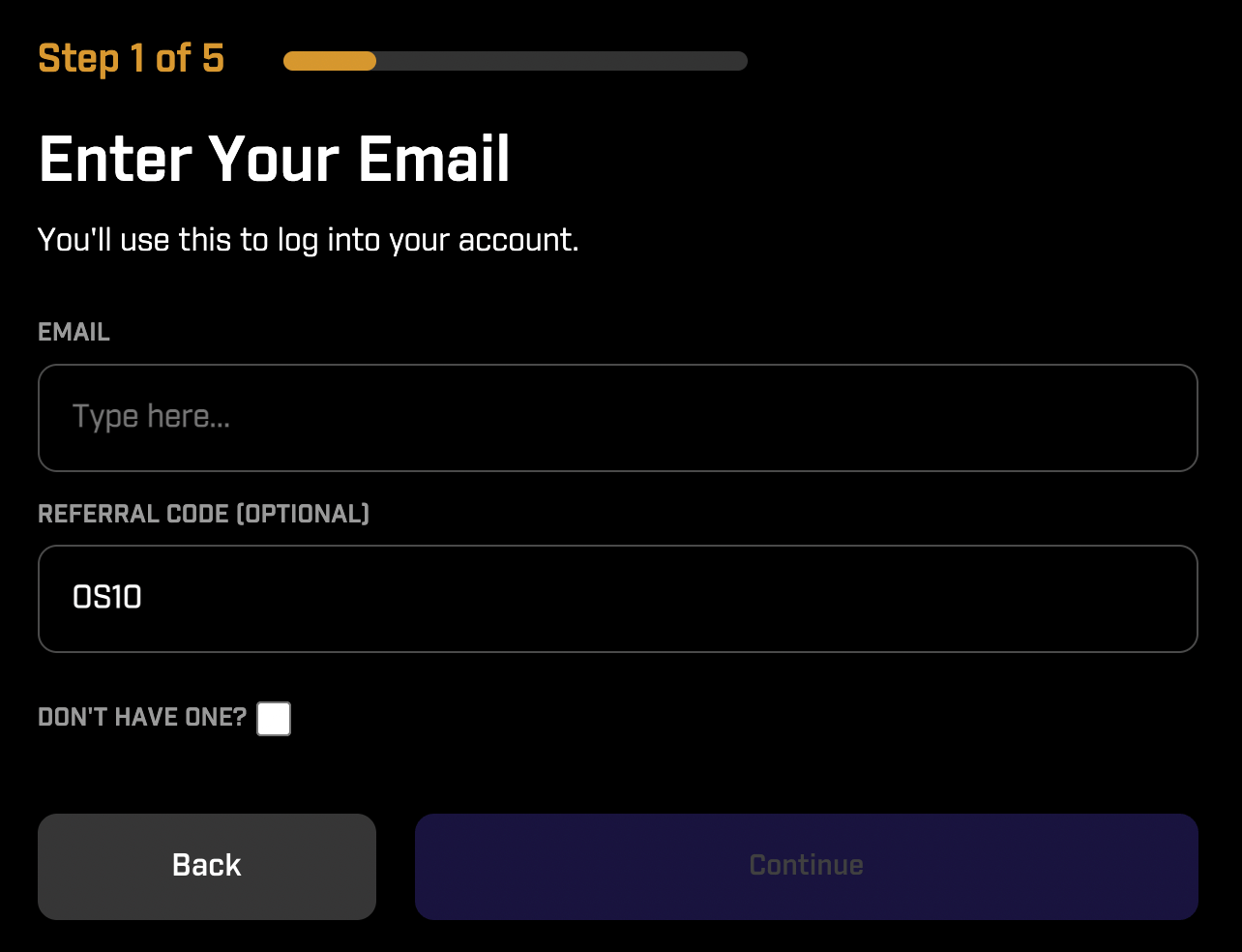 Begin the process by clicking here, which will redirect you to the PrizePicks app or website. Upon arrival, you'll be prompted to provide your email and PrizePicks promo code. Our exclusive promo code for PrizePicks should automatically populate in the referral code section, but if it doesn't, use promo code OS10. Remember, using this promo code is essential to qualify for a complimentary month of OddsShopper Pick 'em.
Step 2: Enter Your Full Name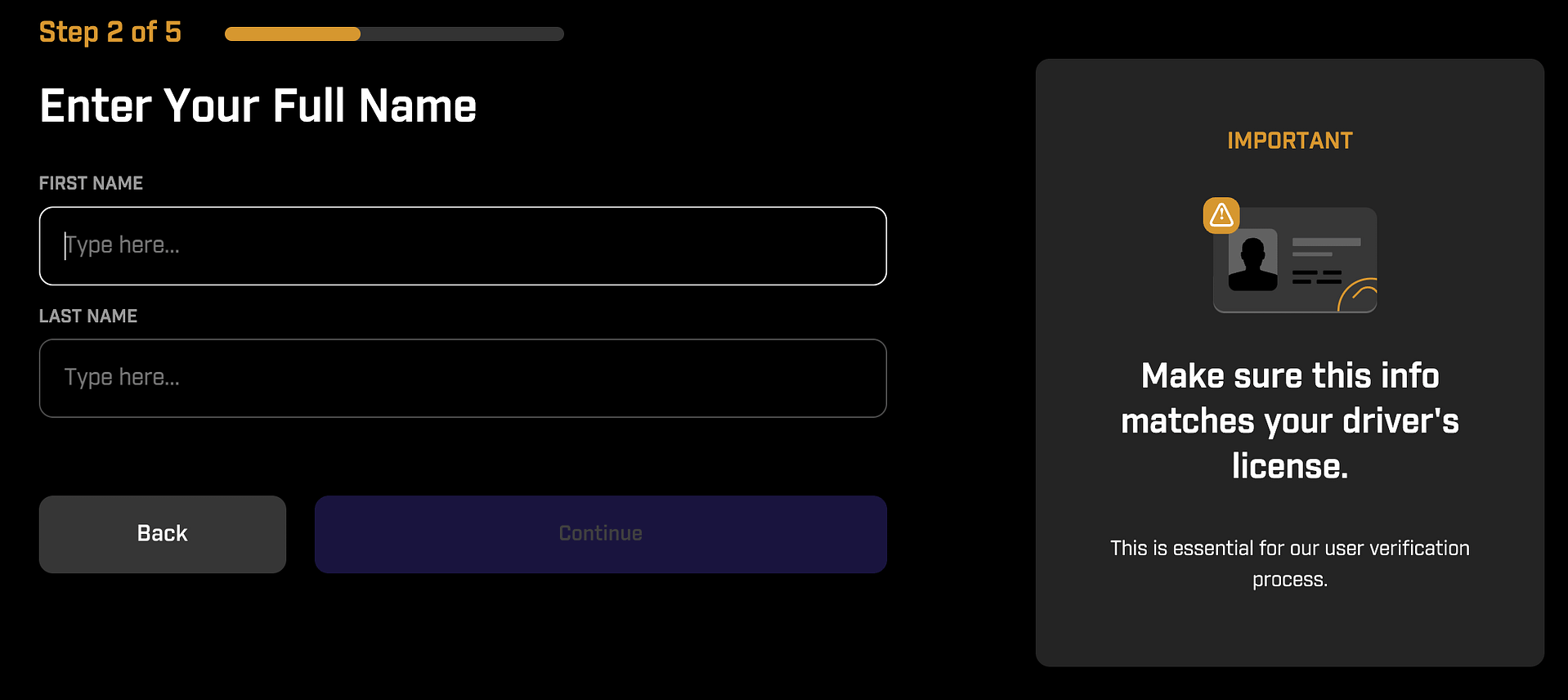 Next, you'll be prompted to provide your complete name exactly as it appears on your identification document, which will be required at a later stage (typically your driver's license).
Step 3: Enter Your Date of Birth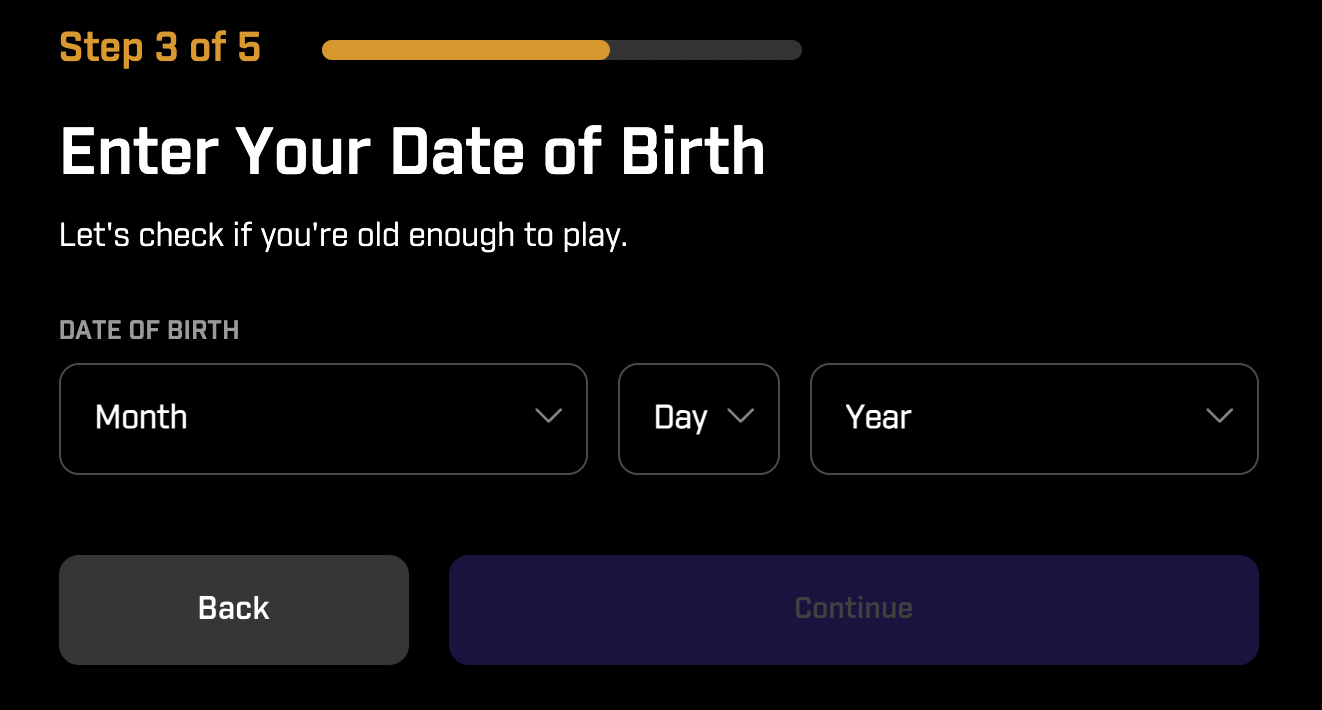 Once you've provided your name, you'll be prompted to enter your date of birth. This step is necessary to verify that you are 18 or older (21+ in MA & AZ, 19+ in AL, NE).
Step 4: Enter Your Address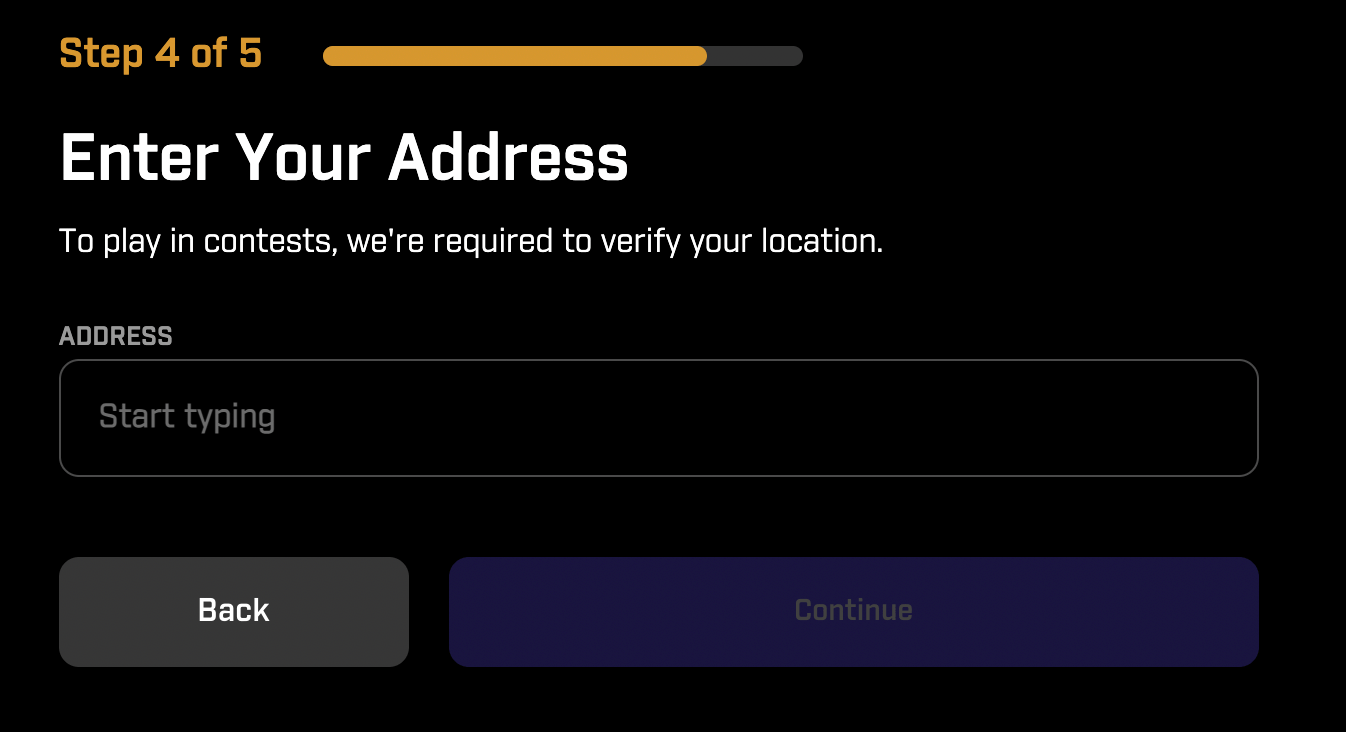 Moving forward, you'll be prompted to provide your residential address. This information must align with your proof of identification and will be used by PrizePicks to verify that you are located in a state where DFS is permitted.
Step 5: Choose Your Password and Accept Terms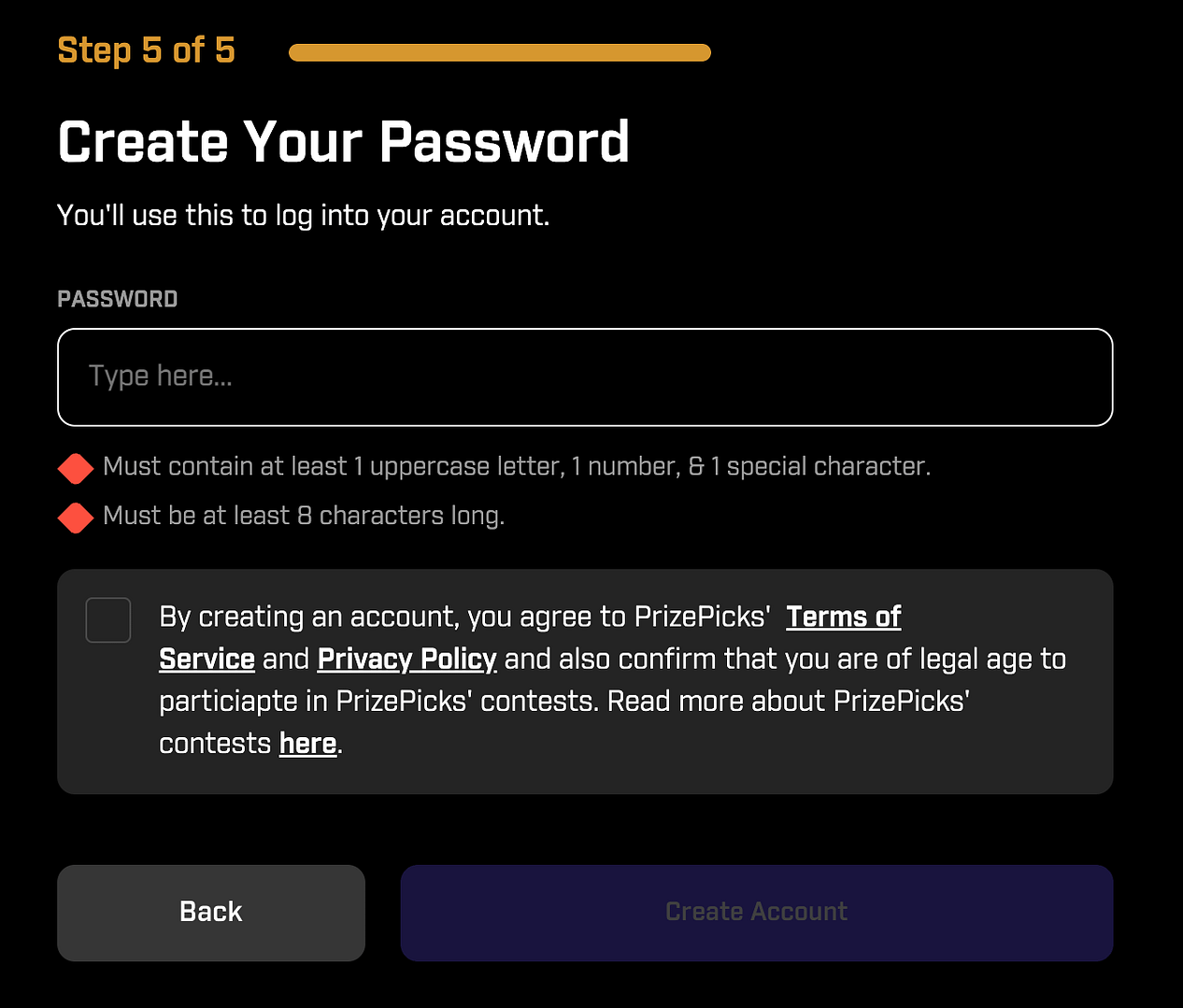 During the final stage of the registration process, you'll be required to set a password for your account and agree to the terms and conditions.
Once the registration is finished, you can proceed to make a deposit and begin playing! Your initial deposit will be matched by 100% up to $100. After you've made a deposit and participated in your first contest, PrizePicks will send you an email with a special coupon code to redeem your FREE month of OddsShopper Pick 'em!
How to Play at PrizePicks – Tips and Tricks
Get daily picks, predictions and advice for PrizePicks and more on the OddsShopper sports betting YouTube channel!
STOP Making These 5 Mistakes On PrizePicks! 🎥
START WINNING MONEY on PrizePicks Today | Strategy for Beginners 🎥
What is PrizePicks?
Whether you're a casual fan or a seasoned fantasy sports enthusiast, PrizePicks provides an innovative twist to traditional fantasy sports gameplay. Instead of creating complex teams or managing player statistics, PrizePicks simplifies the experience by allowing users to predict the performances of individual athletes. By selecting more/less predictions on player stats like points, rebounds or assists, you can test your sports knowledge and compete for real cash prizes. With a user-friendly interface, a wide range of sports to choose from and the opportunity to play against friends or compete in public contests, PrizePicks offers a thrilling fantasy sports experience for fans looking to add an extra layer of excitement to their favorite games.
PrizePicks App Experience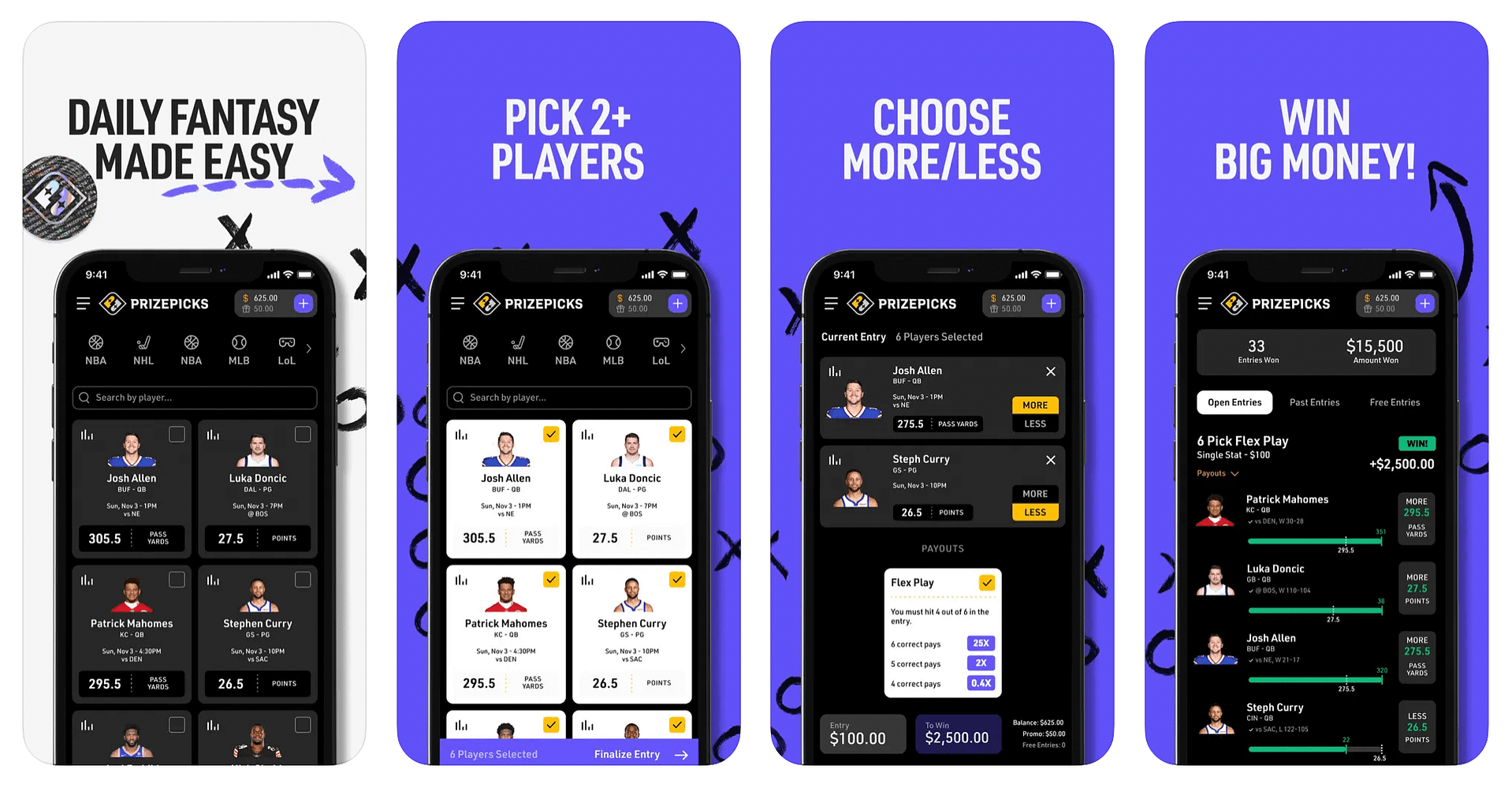 PrizePicks' app and site are pretty much laid out the same since the website is designed like a mobile app. Since PrizePicks clearly designed its site with mobile users in mind, the app is quite simple and straightforward with virtually no room for confusion. Below, we will break down the specific designs and features of the PrizePicks mobile app.
Design and Layout
The PrizePicks app is about as easy to use as it gets. The offered sports are in a scrollable bar at the top, and once a sport is selected, the day's players with their projections show up in boxes below. Just above the players are the various statistics PrizePicks players can choose, like points + rebounds + assists, fantasy score, saves, what have you. Most sports have a wide variety of playable statistics, though some the options are a bit more limited — baseball has only hitter fantasy scores, for example.
At the bottom of the screen are tabs for the picks board, your entries, current promos and customer support. At the top left is a collapsible menu for settings, customer service, payment information, etc.
Navigation
Once you have selected the sport of your choosing, simply choose the statistic you want to play and the player whose more/less you want. You have to choose at least two players, and once you have selected enough, you can click Finalize Entry at the bottom, select More or Less for each pick, and choose how much money you want to use on your entry. Then simply click Place Entry at the bottom.
It really is that simple — there are virtually no other aspects to the PrizePicks app other than choosing the sport, the stat and the players.
PrizePicks Gaming Options
Considering PrizePicks is relatively new and a unique entrant in the daily fantasy sports world, it is surprising the variety of sports it offers. Aside from the basics like NFL and NBA, PrizePicks is also big on eSports and other international offerings. Here is a list of sports on the PrizePicks docket:
Sports and Leagues
Big 3 Basketball
Counter-Strike: Global Offensive
Cricket
League of Legends
MLB
MMA
NBA (including summer league)
NFL
PGA
Soccer
Tennis
WNBA
PrizePicks Customer Service
Among daily fantasy and sportsbooks, PrizePicks has some of the best customer service reviews out there. Most users report quick and helpful responses from PrizePicks live chat support.
Here are some positive reviews from PrizePicks users made on sites like Reddit and the Android app store:
"I've used their support like 4 times and it's all within minutes."
"Love it! Easy navigation and can bet on all sports … Cash out is super easy and quick."

Player feedback from App Store and Reddit
However, after a recent update, there were some issues with the PrizePicks app, and since PrizePicks does not have a customer support phone number, users struggled to find answers when the live chat and email services were not responding quickly enough.
A few of the problems users had included:
Trouble logging in.
A long period of time for account verification.
Issues with location services not correctly identifying the location.
Contact Options
Live chat: PrizePicks offers 24/7 live chat support by clicking the "Chat Now" button on the Help Center page.
Email: PrizePicks email support is available 24/7, though response times vary.
Conclusion
PrizePicks is a game-changer in the world of fantasy sports. With its simplified gameplay, diverse sports options, and the chance to win real cash prizes, it provides an accessible and thrilling experience for sports fans of all levels. Whether you're looking to compete against friends, participate in public contests, or simply test your sports knowledge, PrizePicks offers an engaging and enjoyable platform to do so. So why not dive in and join the excitement of PrizePicks today? Start making your predictions and see if you have what it takes to come out on top.