Discover great bets
with data-driven tools
Find and analyze your favorite bets and parlays using data from top sports bettors, and win more when you win.
Sign up with email to shop bets
Discover high-value bets using projections straight from Stokastic
Give yourself the best chance to beat the books by supplementing your knowledge with projections from our experts.
Bet with confidence using projected win probability and simulated ROI

Our proven experts run thousands of simulations to create their projections that are proven accurate over time.

Search and filter bets by player, team, or bet type

Find exactly the bets you're looking for with the most customizable bet directory on the market.

Compare odds across multiple sportsbooks in your state

Once you have a bet you'd like to place, we help you find which sportsbook is offering the best odds to maximize returns.
Win every single time with our Arbitrage opportunities
When the odds vary between two sportsbooks, you can place a bet on each side and pocket the difference. You win every time.
Win guaranteed money, risk-free

Find arbitrage betting opportunities across multiple sports & leagues that you are guaranteed to win and profit from.

Never miss an opportunity

We analyze an insane amount of bets & odds across multiple sportsbooks in real-time to find you the most profitable arbitrage opportunities.

See how much money you can win

Enter in your wager amount and our arbitrage tool will tell you exactly what your expected return will be.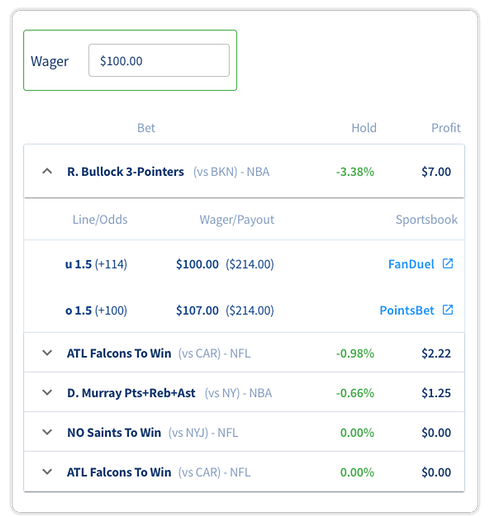 Boost your ROI with curated parlays
Discover hand-picked parlay bets that are designed to make you more money.
Get bigger payouts on parlays that are more likely to win

Our experts hand-pick parlays that they themselves would take.

Compliment your betting style with themed parlays

Whether you're looking for a 10x return or to go more chalk, we have parlay just for you.

Shop for bets on multiple leagues at sportsbooks in your state

Get parlays customized to your state, sport, and sportsbook.
Tweet us your favorite bets and big wins!
Find us on Twitter @OddsShopper
"Gotta love that @Stokastic_Com Parlay Builder & all the pro picks from the Stokastic experts…I'm running out of words to say about them. Put the right picks together & bang — like clockwork!"
@DaveDeRemer
December 30, 2021
@Eller16
December 6, 2021
"Only took 79 hours to make this bet with the @Stokastic_Com nba prop tool"
@ShawnZhan
November 28, 2021
How to Win Every Time Sports Betting