Underdog Fantasy is an exciting fantasy sports platform that brings a fresh twist to the world of DFS (daily fantasy sports). Whether you're a die-hard football fan or enjoy the thrill of basketball or baseball, Underdog Fantasy has established itself as one of the best DFS apps you'll find. As a new player, you can unlock a unique Underdog Fantasy promo code by signing up using code STOKASTIC10. This will get your first deposit doubled up to $500! Read below for our full Underdog Fantasy review for more info.
This Week's Underdog Fantasy Promo Code
| | |
| --- | --- |
| 💰 Underdog Fantasy Promo Code | stokastic10 |
| 💵 Underdog promo Amount | $500 |
| 🤔 Underdog Promo Description | Get First Deposit Doubled Up to $500 |
| 🌎 Underdog Fantasy States Available | AL, AK, AZ, AR, CA, CO, FL, GA, IL, IN, KS, KY, ME, MD, MA, MN, MS, MO, NE, NH, NJ, NM, NY, NC, ND, OH, OK, OR, PA, RI, SC, SD, TN, TX, UT, VT, VA, D.C., WV, WI, WY |
| ☞ Underdog promo Link | Play Now! ➚ |
| ✅ Underdog promo verified until | 9/25/2023 |
MUST BE 18+ (21+ MA & AZ, 19+ AL, NE). CONCERNED WITH YOUR PLAY? CALL 1-800-GAMBLER OR VISIT NCPG
Not what you're looking for? Find our comprehensive list comparing the best DFS apps! ➚
Underdog Promo Code Details
 Underdog will match your first deposit up to $500 when you use OddsShopper's promo code!
Underdog Fantasy Pros & Cons
✅
PROS
One of the top Best Ball products in the industry.
Daily fantasy pick 'em contest.
Different types of drafts to cater to needs and interests.
Easy-to-navigate app for drafts and switching between fantasy contests.
❌
CONS
Only email contact for customer service.
Pick 'em contest in-app is a little cluttered.
Promos have low maximum buy-in.
Quick Facts About Underdog Fantasy
Underdog was founded in 2020, and its investors include Adam Schefter, Mark Cuban and Kevin Durant.
Underdog's 2023 Best Ball Mania tournament offers $3 million to the winner.
Underdog fantasy drafts are available in 41 states, and the Pick'em contest is offered in 33.
Underdog offers daily snake drafts called Battle Royal, which have room size ranges from 3 to 12 players and buy-ins between $3 and $100.
Underdog Fantasy Review
A Guide to Signing Up at Underdog
Step 1: Sign Up
To initiate the process, simply click on the provided link, which will direct you to the Underdog Fantasy site. Upon arrival, click the green "Sign Up" button positioned at the center of the screen.
Step 2: Enter Information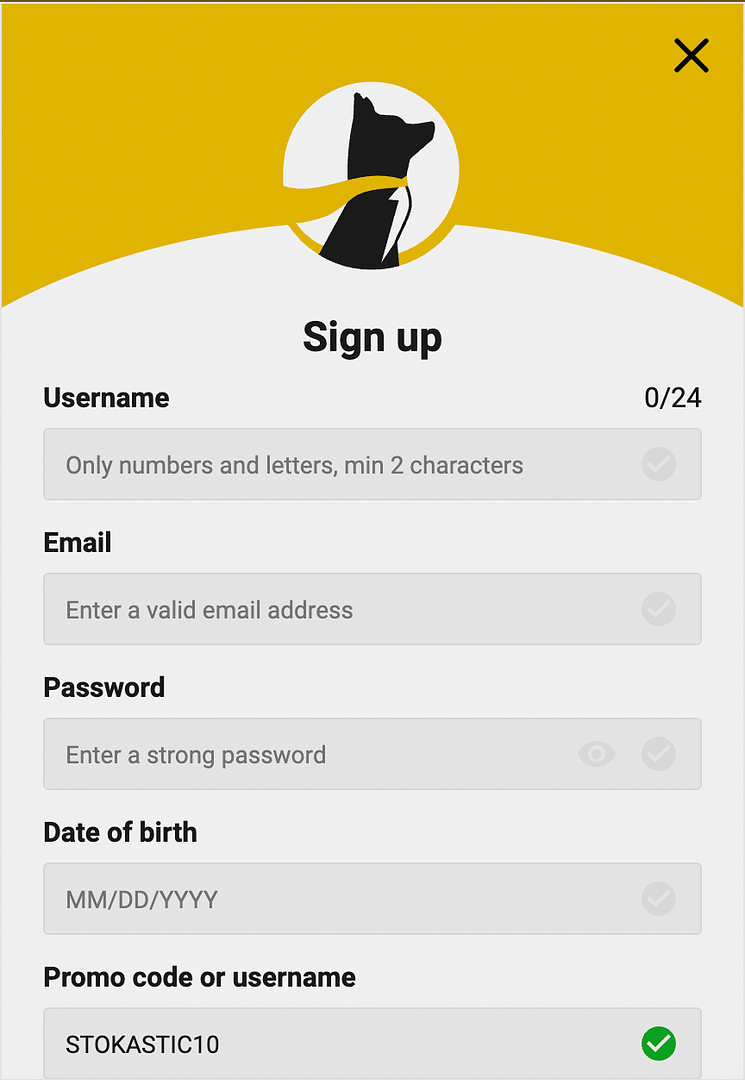 Provide your basic sign-up details, including your email address, username, password and date of birth. It is important to note that once you select a username, it cannot be modified in the future, so please ensure that you are content with your choice. Our promo code for Underdog Fantasy will automatically populate, but if it doesn't, use Underdog promo code STOKASTIC10 to get this offer.
Step 3: Deposit
Once you're signed up, make your initial deposit and Underdog will match it 100% up to $500!
Step 4: Play Underdog!
The only step remaining is to join a contest! Not sure where to start? Check out our guide on how to play Underdog Fantasy Pick 'em.
What is Underdog Fantasy?
Underdog Fantasy focuses on daily fantasy and season-long fantasy football but also provides options for basketball, baseball and other sports. Underdog Fantasy stands out by offering quick and easy-to-understand drafts, where users select a roster of players within a limited time frame. It employs innovative game formats like Best Ball, where users draft a team and their highest-scoring players are automatically selected each week, eliminating the need for lineup management.
Underdog Fantasy App Experience
The Underdog Fantasy app is a solid representation of the site, allowing users to switch between the various Best Ball and Pick'em contests with ease. With Underdog's quick and user-friendly draft format, you can easily assemble your dream team of players within seconds. Forget about the hassle of managing lineups, as Underdog Fantasy's innovative Best Ball format automatically selects your top-performing players each week. Plus, with real cash prizes up for grabs and a seamless user experience, Underdog Fantasy is the ultimate destination for DFS enthusiasts looking for a fun and rewarding gaming experience. Below we will break down the specifics of the Underdog app experience.
Design and Layout
Opening the Underdog app takes you right to the draft lobby. At the very top of the screen are tabs that take you to drafts you are a part of, and just below that you can cycle through the various sports offered for Underdog drafts. Then there is a slidable featured drafts section with the top pools Underdog is offering at the moment, and just below are more draft options.
At the bottom of the screen, you find a tab for Underdog's daily fantasy pick 'em contests, which is laid out similarly to other pick-'em apps. Underdog offers two styles: Higher/Lower and Rivals. Higher/Lower functions like a normal pick 'em contest — choose a player, a stat and select whether or not you think that player will go higher or lower. The Rivals picks are head-to-heads, where you pick who between two players will perform better.
The Pick 'em layout is a bit cumbersome since the windows for player picks only go one across, as opposed to most sites that go two across. This creates a need to scroll quite far to find players you want to use, and there is no obvious way to search or sort. However, Underdog partially makes up for this by including all playable stats in the player cards, so you do not need to sort through multiple stat windows to find the perfect combination between player and higher/lower play.
Navigation
Considering the disparity in the options on Underdog, navigating the app is surprisingly straightforward. The Drafts lobby has everything clearly labeled, and the various sports options are easy to find. Changing the slate for your drafts is a matter of selecting from a simple dropdown, and once you have joined some drafts, the tabs at the top of the screen make it easy to go back and check your teams.
As stated before, the Pick'em section is a bit heavy-handed, but it is not confusing — more that it requires quite a bit of scrolling. That is the biggest downside to the app's navigability.
Once you make at least two Pick'em selections, you can advance to the review page. There you finalize your selections, enter how much you want to wager on the entry and add insurance if you have made at least three picks. Then click Submit and you are good to go!
Underdog also has a tab at the bottom of the app screen for a news feed so that you can gather any late-breaking notes to help your drafts and picks. Again, for the amount of data in this app, it is condensed pretty well into an easy-to-use format.
Underdog Fantasy Options
Underdog has numerous options for both drafts and daily fantasy contests.
Sports and Leagues
Fantasy Drafts:
Pick'em Daily Fantasy:
Auto Racing
CFL
eSports
Golf
KBO
MLB
MMA
NBA
NFL
NHL
PGA
Soccer
Tennis
WNBA
Underdog Fantasy Customer Service
Underdog's customer service leaves a little to be desired since the only avenue to contact them is via the internet. There also does not appear to be a live chat option, so users have to submit requests via email. That said, those who use the support largely have good things to say, and response times are fairly quick for email support.
Here are some positive reviews from Underdog users made from apps on iOS and Android:
"Extremely quick and very kind. Excellent customer service all around. Secondly, the app is very good and very well made."
"I was skeptical at first but tried it, and they matched my deposit both of the last two seasons I have played as well and I personally think it's the best app to use for season long fantasy sports."

Customer Reviews from the App Store and Google Play
A few of the problems users had included:
Trouble logging in
Problems withdrawing winnings
Issues with bugs and crashes on the drafting side of the app
Contact Options
📧 Email: Underdog email support is available 24/7, though response times vary.
Conclusion
Underdog Fantasy is a game-changer in the world of fantasy sports. With its unique draft format, wide range of sports options, and the chance to win real cash prizes, it provides an exhilarating and user-friendly experience for sports fans of all levels. Whether you're a casual player looking for quick and easy drafts or a seasoned fantasy sports enthusiast seeking a new challenge, Underdog Fantasy has you covered. So why wait? Dive into the excitement of Underdog Fantasy today and experience the thrill of assembling your dream team and competing for glory.
Find More DFS Promo Codes and App Reviews