Oh boy, are we in for a wild night of NBA action. Yes, it's only five games and the matchups are not "stellar" in the sense of title-contending teams, but one game has a whale of a total, and a couple of others have some real star power battling it out. With that in mind, we are checking out OddsShopper to see what the best +EV NBA picks are tonight. Let's break down the best NBA bets for Tuesday, Nov. 21, selecting one side, total, and NBA player prop for the slate and also getting into some of OddsShopper's FREE tools: The arbitrage bet and Free Bet Converter play of the day!
Best NBA Bets Cheat Sheet: +EV NBA Plays for Today
NBA Side: Los Angeles Lakers First Quarter Moneyline (-170, DraftKings)
NBA Total: Portland Trail Blazers vs. Phoenix Suns Second Quarter Over 56.5 Points (-112, DraftKings)

NBA Player Prop: Shaedon Sharpe Under 3.5 Assists (+120, FanDuel)

Arbitrage Bet of the Day: Evan Mobley Over 2.5 Assists at BetRivers, Under 2.5 Assists at ESPNBet
Arbitrage betting in sports is taking advantage of line discrepancies between bookmakers and betting all potential outcomes at different sportsbooks. Regardless of the result, these bets are guaranteed to be profitable since the payout for winning on either side of the bet exceeds the total amount wagered. This bet below pays out $12.36 on a $1,000 bet.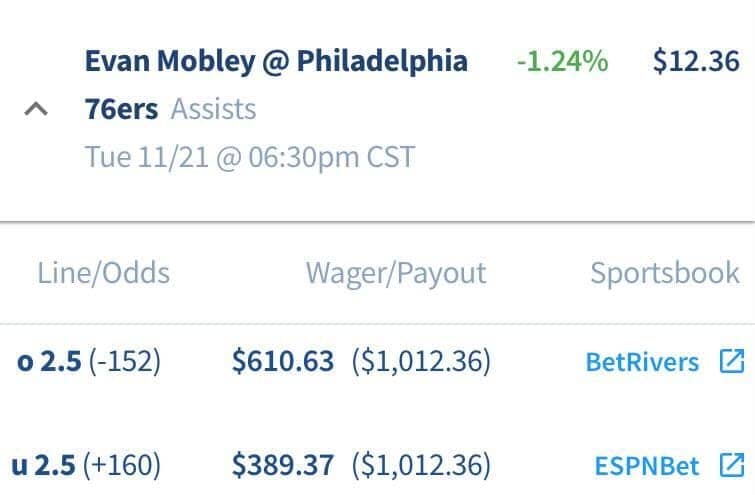 Free Bet Converter Play of the Day: Trail Blazers Moneyline at Caesars, Suns Moneyline at DraftKings
The Free Bet Converter is similar to the Arbitrage Betting tool, only the Free Bet Converter guarantees profitability by specifically targeting sportsbook bonus bets. With today's play, you will want to target the Trail Blazers moneyline (+600) at Caesars, then place a 5.333x bet on the Suns moneyline at DraftKings (-800). This will lead to a profit of $6.67 on a $10 initial bet. For a full explanation of this process, check out our breakdown here.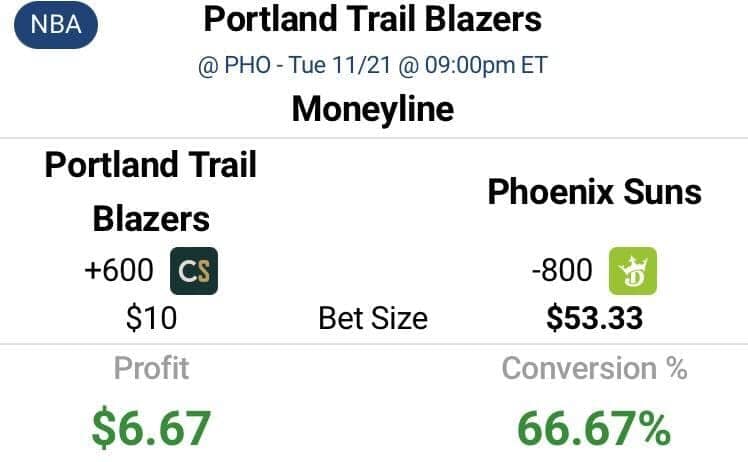 Editor note: Looking for the best DFS contest simulator? We have you covered.
New to sports betting? OddsShopper's selection of Betting 101 articles is here to help. Check out our guide to finding positive expected value (+EV), and you can unlock more +EV plays by signing up for OddsShopper Premium! Don't believe OddsShopper will change your betting results? Check out Greg Ehrenberg's profits: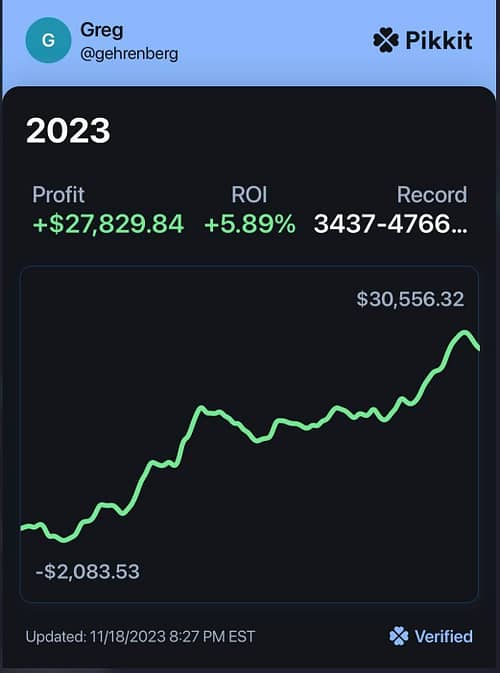 This right here is the OddsShopper difference.