Basketball action rolls on in the NBA tonight. The evening's slate may lack marquee games — or nationally televised ones, for that matter, but there are a handful of betting spots worth attacking, especially if you're looking for some NBA player prop picks. I have bets out on DeMar DeRozan, Mike Conley and Nikola Jokic already. If you're hungry for more bets, check out our NBA betting tools or our NBA betting promos! You can always check out my guide to NBA player prop betting as well.
NBA Player Props Today: Picks for Nikola Jokic & More
I'm getting a little bit contrarian with tonight's first NBA player prop pick. We're locking in a wager on DeMar DeRozan against the Miami Heat this evening. The Bulls are playing their third game in four days tonight, and they just featured DeRozan for a total of 76 minutes in those games. He isn't on the injury report for tonight's contest, but I don't expect a similar workload for the 34-year-old veteran. DeRozan has been in this playtime situation twice this year and played 34 and 30 minutes, respectively.
DeRozan has an impressive resume against the Heat as a member of the Chicago Bulls, but his high volume is a necessary part of that story. DeRozan is averaging 25.7 points per game but in 38.3 minutes per game. This year, DeRozan is averaging 21.5 points in 35.4 minutes, putting him on pace for lows in both metrics since joining the Bulls. I'm not expecting another big showing for DeRozan against the Heat tonight.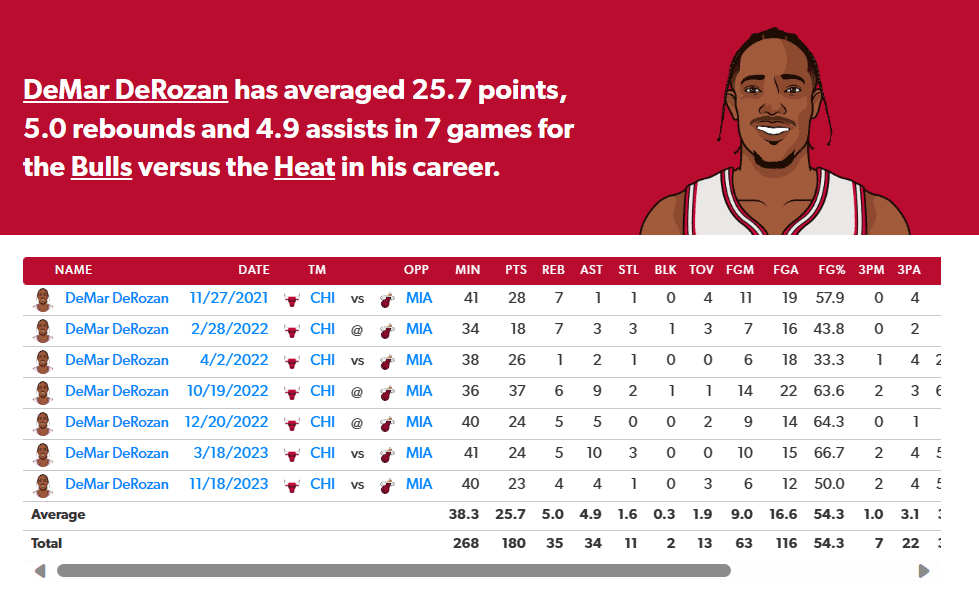 You'll find DeRozan's points prop set to 21.5 across the market with little variance in the pricing for the under. Pinnacle, a sharp book, has it one at -111. FanDuel, bet365 and most public books have it set to -113 to worse. However, you'll find the -110 at both DraftKings and BetMGM. New to BetMGM? Check out our BetMGM bonus code for free OddsShopper Premium and your first bet paid back as a bonus bet up to $1,500.
NBA Player Prop Pick: DeMar DeRozan Under 21.5 PTS -110 at BetMGM
The Minnesota Timberwolves have gotten out to a surprisingly hot start. They'll face the New York Knicks this evening in what should be a slow-paced, low-scoring affair. The books have set the total for this one at 214.5, which feels a bit high: Minnesota ranks 19th in pace, New York ranks 30th; Minnesota ranks third in defensive efficiency, New York ranks fifth.
One player whose production should suffer from the scaled-back pacing and strong defense is point guard Mike Conley. The veteran is averaging 5.1 assists on 8.4 potential assists per game, but with Anthony Edwards breaking out, Conley's minutes have dropped from 31.4 last year to 28.8 this year. His assists are yet to see a similar downtick.
Our NBA betting tools want action on this Mike Conley prop today. The pricing disparity across the market points to serious value in this spot: Pinnacle, a sharp book, lists Conley's under at -149, which is far below where the public books are taking action, especially Caesars.
The -119 (53.4%) on Caesars is worse than the true odds for this wager of -128 (56.1%). OddsShopper calculates true odds by indexing odds available at all books and adjusting for book sharpness and hold. If you haven't signed up for OddsShopper Premium, you can get access to all of our NBA betting tools for $99.95 per month. Make sure to use promo code "ISIROIS" at checkout for 20% off!
NBA Player Prop Pick: Mike Conley Under 5.5 Assists -119 at Caesars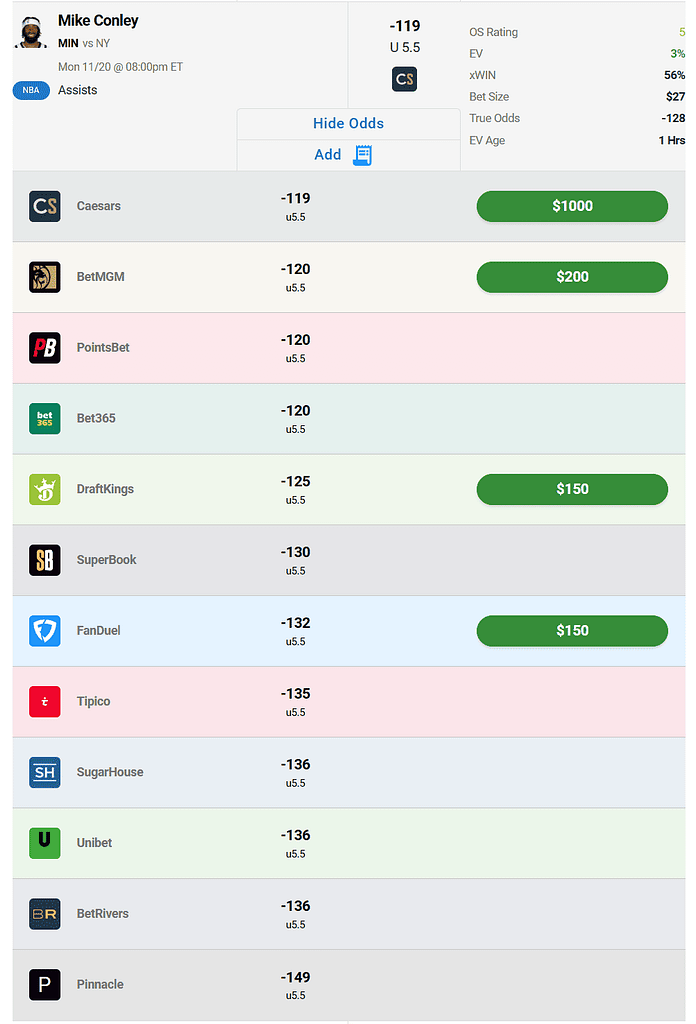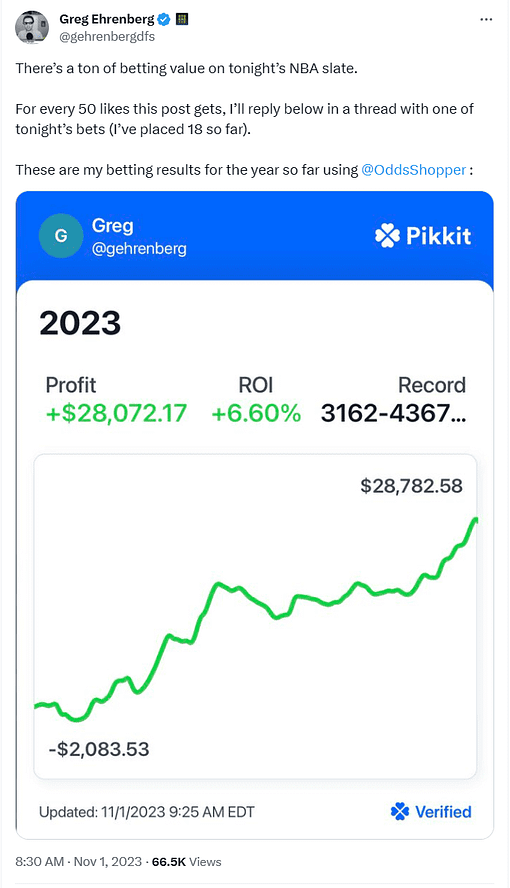 Nikola Jokic Player Prop
Let's wrap this column up with an NBA player prop pick for Nikola Jokic tonight. Jokic and the Denver Nuggets will visit the Detroit Pistons on the second leg of a back-to-back set. Both teams lost last night and were able to conserve their frontcourt starters: Jokic played just 28 minutes while Isaiah Stewart played 21. Jalen Duren sat for the fourth straight game.
Yet despite the unfavorable scheduling for Denver, the Nuggets are a nine-point road favorite tonight. The Nuggets have closed as a nine-point favorite twice this season, first against the Utah Jazz and again against the Chicago Bulls, and were on the wrong end of a back-to-back in both of those games, too. Jokic tallied 27 and 28 points in those contests.
Nikola Jokic owns a points prop of 30.5 tonight, which feels more than a little high given the circumstances. The Pistons aren't good, but it's been guards cooking them, not centers. Detroit's defense has allowed the third-most points per game to point guards (27.3) but the 14th-fewest to centers (21.8).
Jokic is coming into this one relatively fresh, as he only had to play 28 minutes last night, but I don't expect the Nuggets to get too aggressive with his usage in what should be a blowout win. With Jokic's point total trading at 30.5 — a mark he has surpassed just five times in 13 starts this year — it's a prime spot for under bettors.
NBA Player Prop Pick: Nikola Jokic Under 30.5 Points -108 at FanDuel
OddsShopper's NBA Tools & Tips
Looking for more 2023-24 NBA predictions? OddsShopper's experts are here to break down this NBA season — make sure to check out the rest of our NBA articles. Still need more picks? Subscribe to OddsShopper Premium for our market-based betting model's picks and best bets.