We need a slump-buster. We're going to the team that has won us the most money betting player props and NBA parlays — the Philadelphia 76ers. Yep, that's right. We're going full Joel Embiid "SUCK IT!" motion to the sportsbooks tonight, and firing up some Cavaliers-76ers same game parlay picks; and using the 25% DraftKings Sportsbook boost.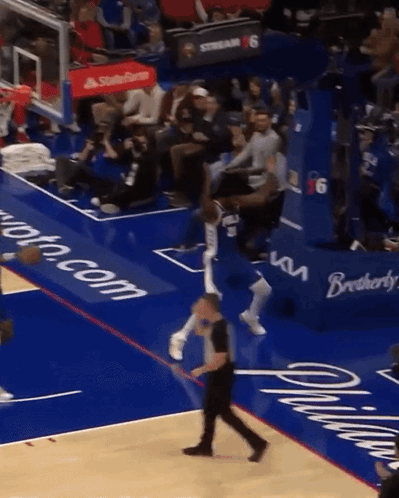 Plus, if you're really looking for a spicy bet tonight, be sure to check out this +2200 triple-double bet I gave out to my Twitter followers.  
Joel Embiid o4.5 Assists (NBA Player Prop)
We're starting out the Cavs-76ers parlay with a Joel Embiid player prop that is POPPING in the OddsShopper Prop Tool today. The projections have this bet winning almost 60% of the time. 
The last four games have been an absolute mega smash for Embiid in the assist department. The fella has 6 or more helpers in all of those games, and has gotten as many as 9. 
The offense is flowing through Embiid and Tyrese Maxey exclusively, which is highlighted by Embiid's 36.8 usage rate. And, for those keeping track, that's behind only Luka Doncic and Giannis Antetokounmpo. 
This is another great spot for Embiid and Maxey to run their two-man game, so look for another steady does of assists from the big fella.  
Joel Embiid 10+ Rebounds (NBA Player Prop)
The current expected win rate on a Joel Embiid double-double tonight is 65%, according to the OddsShopper  Prop Tool. 
We know he's going to smash the double-digit points, but let's just get in on his 10+ rebounds as well.
Embiid is averaging over 11 rebounds per game this season, and has cleared the 10+ mark in nine of the 76ers 13 games this season. He's always around the rim grabbing boards and should be able to handle whatever combo of Jarett Allen and Evan Mobley the Cavs are going to throw at him tonight.  
Tyrese Maxey 20+ Points (NBA Player Prop)
As I mentioned earlier, the 76ers offense flows almost exclusively through two players: Embiid and Tyrese Maxey. With James Harden gone, Maxey has really taken on a larger role, and much of that is in the scoring department. 
Maxey's averaging almost 27 points per game, which is, hands down, a career high for him. He's getting almost 20 shots per game in this new-look 76ers offense, and it's been paying dividends. 
Not only has he gotten a bump in total shot attempts, but he's having the best 3-point shooting year of his career as well (45%). I love that he's averaging almost 5 free-throw attempts per game as well, so he's capable of getting easy points at the line. 
I love this 20+ point prop for Maxey tonight as part of our Caveliers-76ers same game parlay.  
76ers Moneyline (Cavaliers-76ers Pick)
The 76ers have been one of the best teams in the Eastern Conference this year, and all of basketball for that matter. 
Cleveland isn't a team that scares me much, especially with how well both Embiid and Maxey are playing right now for Philly. The 76ers are 7.5 point favorites, AND at home tonight. 
Forget the points, I'm not messing with it. Give me the 76ers moneyline, and let's get the dub. 
Final NBA Cavaliers-76ers Same-Game Parlay Picks Today
Leg 1: Joel Embiid o4.5 Assists (NBA Player Prop)
Leg 2: Joel Embiid 10+ Rebounds (NBA Player Prop)
Leg 3: Tyrese Maxey  20+ Points (NBA Player Prop)
Leg 4: 76ers Moneyline (NBA Prediction)
= +332 at DraftKings Sportsbook
OddsShopper's NBA Tools & Tips
New to sports betting? OddsShopper's selection of Betting 101 articles is here to help. Check out our guide to finding positive expected value (+EV), and you can unlock more +EV plays by signing up for OddsShopper Premium! Don't believe OddsShopper will change your betting results?