Two of the hotter teams in the NFL clash on Sunday night in Denver as the Broncos host the Vikings. Minnesota is looking for its sixth straight win, while the Broncos are coming off two straight despite looking awful before that mini streak. Have things changed for the better in Denver with Russell Wilson? Is Joshua Dobbs the real deal to push the Vikings back into the playoffs? Sunday night should give us plenty of answers, starting with the opening drive. There are some quality choices on both teams to score first, so here are the best Vikings-Broncos first touchdown picks for Sunday Night Football.
If you're hungry for more action, check out the rest of our NFL player prop bets, our NFL betting tools or our NFL betting promos.
Vikings-Broncos First Touchdown Bet | Week 11 SNF
Down its starting quarterback and arguably the best wide receiver in the game, Minnesota keeps pumping out wins. The offense now runs through Dobbs, both with his feet and throwing arm. Clearly the team responded with belief in its new leader, something that should carry over tonight. As for first touchdown, Dobbs is 9-1 and sitting behind starting running back Alexander Mattison on Caesars Sportsbook. It's the best price for the most realistic scenario. Denver is going to key on Mattison and T.J. Hockenson, allowing for some rushing lanes for Dobbs.
The Vikings should have a couple of early designed runs for their new quarterback, which boosts his chances to score. Minnesota will have a couple of big plays in the air, be it a deep middle throw to Hockenson or taking advantage of K.J. Osborn's speed. But even if it's a bomb that goes just short or methodical movement of the ball downfield, Dobbs will have the ball in his hands in most — if not all — of Minnesota's mid-range red zone possessions.
Take Dobbs to score at +900 at Caesars as he continues this magic ride for the Minnesota.
Vikings-Broncos First Touchdown Scorer Bet for SNF: Joshua Dobbs +900 at Caesars Sportsbook for 0.25 Units
Things have certainly looked and felt better with the Broncos after knocking off some pretty big names in the league. A closer glance may have a different result of confidence, as they beat a reeling Bills squad and a Chiefs team that had an overseas matchup the following week. Either way, there's clearly a new sense of confidence with Wilson and the passing offense, on top of Javonte Williams leading the ground game.
The last time we saw Denver in prime time, we cashed in a Courtland Sutton first touchdown prop, and the inclination is to go right back to that well. The running game, mainly stopping Williams, will be Minnesota's primary focus on defense. While it will honor the talents of both Sutton and Jerry Jeudy, Wilson has been anything but dynamic from the pocket or on the run. It's another chance to get either Sutton or Jeudy at great value, almost de-valued because of the offense and how much it relies on Williams.
Sutton is a little chalkier this time around, as both were the same number last game. It's still the better bet since both may score tonight, but Sutton will see the majority of early looks in any red zone possession.
Vikings-Broncos First Touchdown Scorer Bet for SNF: Courtland Sutton +750 at Unibet for 0.25 Units
OddsShopper's NFL Tools & Tips
New to sports betting? OddsShopper's selection of Betting 101 articles is here to help. Check out our guide to finding positive expected value (+EV), and you can unlock more +EV plays by signing up for OddsShopper Premium! Don't believe OddsShopper will change your betting results? Check out Greg Ehrenberg's profits: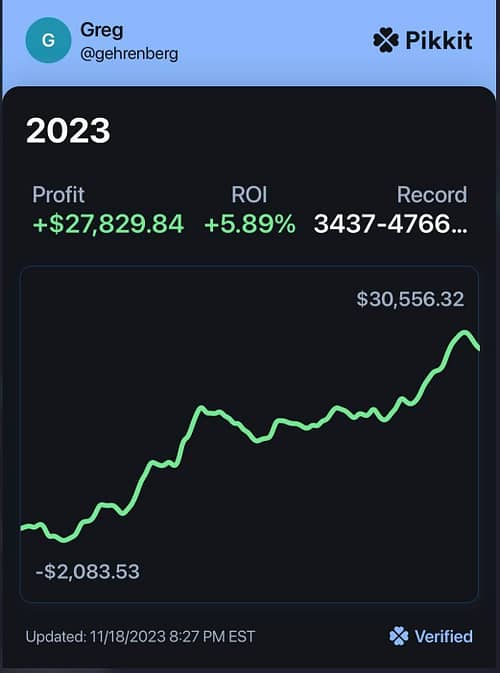 This right here is the OddsShopper difference.