There is just a four-game slate on tap tonight but some BIG games in Major League Baseball, including what should be a great one in L.A. as the Braves come to town to face off against the Dodgers. Let's take a look at the picks from Lindy's Locks on the OddsShopper YouTube channel. For up-to-date news, follow me on Twitter to get my MLB picks and more recapped prior to lock. Nonetheless, onto our MLB betting picks.
Best MLB Picks Today – August 31
You can also watch our best MLB picks today, and other content (video below). If you prefer, you can watch it on YouTube.
New York Yankees (RHP Clarke Schmidt) at Detroit Tigers (RHP Matt Manning)
Very excited for this matchup because I have a play. Interesting pitching matchup. Both pitchers were expected to be good this year and neither of those things have transpired.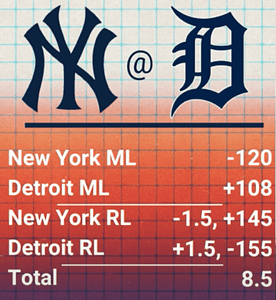 Let's start with Clarke Schmidt: 42.2% hard hit percentage, 22.4% strikeout rate, 6.2% walk rate. There aren't a lot of redeeming qualities when you look at the stats. His hard hit rate has gone up five percentage points and his expected ERA has gone up over a half run compared to last season. The cutter is not cuttering, the sinker is not sinkering, the curveball is not … curveballering. That didn't work, but I tried. Not my favorite back in the entire universe. BUT I am going to do it here, and here is why.
Matt Manning has been worse.
Manning friends, oh boy. 42.6% hard hit percentage, .508xSLG, 11.2% barrel rate and just a 15.4% strikeout rate. If you do not miss bats against the New York Yankees you are probably in trouble. 5.51 xERA compared to just over four last year — I don't know how the regression stats hit these pitchers so hard last year, but they did. And sometimes when you look at the better lineup, when you look at the Yankees here, well, they've got the better lineup.
The Pick: Like New York Moneyline -120
Miami Marlins (LHP Braxton Garrett) at Washington Nationals (RHP Joan Adon)
Braxton Garrett — we know the strikeout stuff can be there from time-to-time, the problem is, it comes along with some hard hits. And he's also a southpaw, going up against a Washington Nationals team that overall has really outperformed expectations against lefties. They have a 108 WRC+ and a .158 ISO, with only an 18.% strikeout rate. For his part, Garrett has a 23.3% strikeout rate — that's decent, but it's down from last year and a 47.7% hard hit percentage, on the year. This is a feast or famine type spot for Garrett, and I am going to err on the side of famine. We're going to be targeting some Nationals bats here.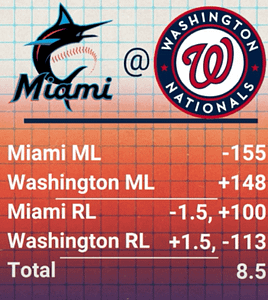 I'm not exactly backing Joan Adon. He's got a 44.9 hard hit percentage, .445 xSLG, and 20.8% expected strikeouts… my goodness friends this is going to problematic, because Miami has got some power. And when you take them out of Miami and put them in a park that is neutral like we have in Washington, look out. We have Jake Burger with a 48.7 hard hit percentage, Jazz Chisholm, Jorge Soler, Jesus Sanchez, Bryan De La Cruz, and Josh Bell, who has been great since his acquisition.
I am very much behind the over on 8.5 today. I would be absolutely floored if this didn't climb to nine, even 9.5. And the fact that it's at Caesars Sportsbook, where we have $250 bonus best promo going on (the best promo they have EVER run) and it's an even better spot.
The Pick: OVER 8.5 (Caesars Sportsbook $250 bonus offer)
San Francisco Giants (TBD as of Writing) vs. San Diego Padres (RHP Pedro Avila)
Very excited for this baseball game, but my dear god the San Diego hype has gotten out of control — why does everyone always try to make the Padres a thing? We don't know who is going to be starting for them, but I'd expect Sean Manaea to make an appearance at some point. He's pitched pretty well of late. But I am going to wait on this line and see what Gabe Kapler is going to do.
San Diego is where we're going to be focusing our time. Avila is only 26 years old. Got a cup of coffee last year and got rocked. He was on the El Paso Chihuahuas of the PCL earlier this season and wasn't super good. A 8.57 ERA, yikes. But he pitched in the PCL, where teams are averaging 5.79 runs per game this season. And he does get strikeouts, which has shown up in the data with a 24.7% strikeout rate. He's facing a San Francisco team with the 4th-worst strikeout rate against righties for their projected lineup, in a pitcher's park.
Strikeout rate — check. Better lineup — check. San Francisco lots of bullpen usage — check. I might look to the moneyline here depending on the number, but right off the bat I'm going to take the over on Avila's 5.5 strikeout prop.
The Pick: OVER 5.5 Strikeouts for Pedro Avila
Atlanta Braves (RHP Spencer Strider) at Los Angeles Dodgers (RHP Lance Lynn)
With only four games, we're going to get a little bit risky with this one. As of writing we're expecting Lance Lynn but that wasn't confirmed. If you're the Dodgers, you don't get that potent Braves lineup coming to town often and when you do, well, they have crazy power and crazy speed. The issue here for Lynn is going to be the lefties. He has 21.2% strikeout rate, and a .259 ISO against lefties this year. He's got a very obvious power problem against lefties.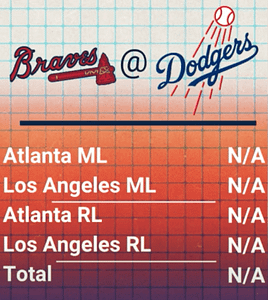 My guess is that Eddie Rosario is going to come in a bit undervalued by the books in this situation. He's starting to turn it on of late, with 17 home runs against RHP this season and a .205 ISO in a park that gives up for home runs. I'm expecting him to come in around +500 to +600.
But I'm all in on the Braves now — better lineup, better pitcher.
The Prop Pick: Eddie Rosario OVER 0.5 Home Runs
The Pick: Braves Moneyline +120