Every bet has an inherent sense of risk involved, which at the end results in a losing bet. It's hard to win bets, and even more difficult to secure profit. Thanks to OddsShopper's Free Arbitrage Tool, anyone can now guarantee profit by using the arbitrage betting system. In short, it takes multiple bets across each outcome with multiple books, ultimately securing profit — betting both sides but at different books to cover the loss and still make money. That's arbitrage. Here are the best arbitrage betting options for Nov. 20.
Arbitrage Betting: Guaranteed Betting Wins Today | Nov. 20
One of the best parts about arbitrage betting is not needing to follow the sport or player. The NHL presents the best return for arbitrage betting on OddsShopper, according to the Arbitrage Tool. Steven Stamkos' number for shots on goal is 2.5 against the Boston Bruins.
A bettor can easily head over to FanDuel and place a $560.98 wager on the over to pay out $1,009.76 if it hits. The same bettor will take $439.02 and bet under 2.5 shots on goal at Unibet for a winning wager of $1,009.76.
Establishing the bankroll for both bets at a combined $1,000, it's now easy to lock in guaranteed profit thanks to the arbitrage betting tool. That leaves $9.76 profit no matter which side hits. This is a long-term play, but each one is a win — building bankroll each bet at a time.
The NBA is the next stop for arbitrage, specifically the Knicks-Timberwolves game. Mike Conley's assist prop sits at 5.5 against New York. A bettor can go over to PointsBet and take over 5.5 assists, wagering $538.33 to win $$1,006.44. That same bet but just on the under can be found at FanDuel. A $461.67 bet will return $$1,006.44 if Conley stays under 5.5 dimes. The result is a $1,000 combined wager for a guaranteed profit of $6.44. These chances increase depending on betting markets, so make sure to check periodically throughout the day on OddsShopper.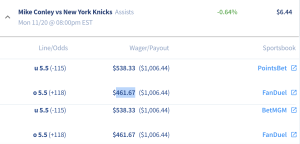 New to sports betting? OddsShopper's selection of Betting 101 articles is here to help. Check out our guide to finding positive expected value (+EV), and you can unlock more +EV plays by signing up for OddsShopper Premium! Don't believe OddsShopper will change your betting results? Check out Greg Ehrenberg's profits: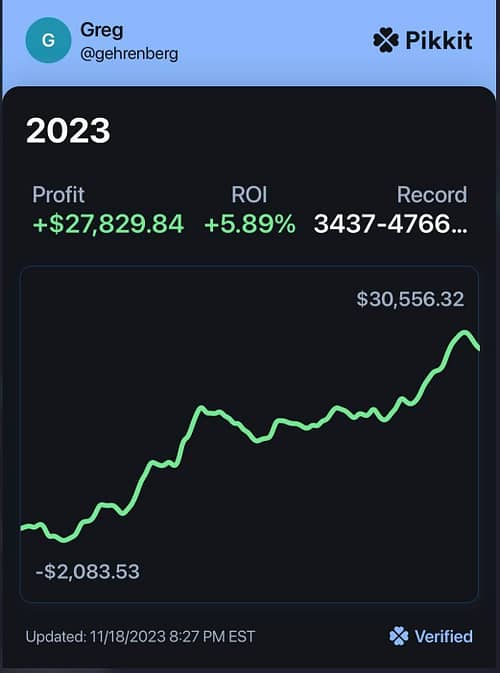 This right here is the OddsShopper difference.