Let's go! We notched a clean 3-0 sweep on Monday, so I'm looking to roll that momentum forward into tonight's card. We don't have a ton of action in store as the NBA gets set for a loaded 14-game slate tomorrow, but I have NBA player prop picks out for Tyrese Maxey, Dejounte Murray and Devin Booker already. If you're hungry for more picks, check out our NBA betting tools or our NBA betting promos! You can always check out my guide to NBA player prop betting as well.
NBA Player Props Today: Picks for Devin Booker & More
The Philadelphia 76ers find themselves in a spot no other team is in today: they're not on the front leg of a back-to-back set. That's right, only two teams are getting the day off on Wednesday: the 76ers and the New York Knicks (who aren't playing today, either.) The 76ers are a 7.5-point home favorite over the Donovan Mitchell-less Cleveland Cavaliers, so it's a great spot for Tyrese Maxey to go ballistic.
Maxey, who currently owns the best odds to win Most Improved Player this year, is averaging 26.8 points on shooting splits of 48/45/95. That's similar to the 48/43/85 he recorded last year, so the big difference is workload: Maxey is averaging 38.1 minutes per game, up from 33.6 last year, to go with a 25.7% usage rate, up from 24.1% last year. Maxey's increased production is sustainable, and he should show off tonight in a game where the Cavaliers will have to be much more deliberate about their personnel decisions than the 76ers.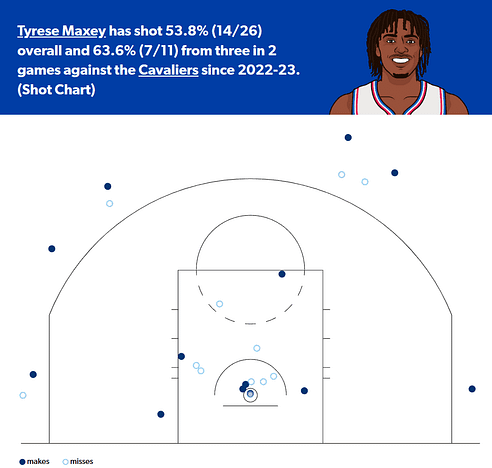 Maxey's points prop sits up at a reasonable 24.5 in most spots, but if the momentum from bets placed this morning is any indication, this could close at 25.5 or higher. The Cavaliers are coughing up the most points per game to point guards (27.8), and with both Evan Mobley and Jarrett Allen healthy, the 76ers could lean on their backcourt, especially from distance. The best remaining price for the over is the -105 at DraftKings. If you're looking to ladder this one, the 30+ is priced at +240 over there as well. Check out our DraftKings promo code if you're new to the sportsbook.
NBA Player Prop Pick: Tyrese Maxey Over 24.5 Points -105 at DraftKings
The Phoenix Suns will play the Portland Trail Blazers tonight and the Golden State Warriors tomorrow. Wednesday's action will even appear on ESPN. The Suns are a 13-point favorite tonight, so Devin Booker may not see many fourth-quarter minutes.
We've seen Booker five times this year, and he is averaging an impressive 9.8 assists per game on 14.8 potential assists. However, his median total is just eight, and he failed to crack the eight-assist mark in his lone start in a double-digit win.
Our NBA betting tools want action on this Devin Booker prop today because of the pricing disparity. The +102 (49.5%) on FanDuel is worse than the true odds for this wager of -107 (51.7%). OddsShopper calculates true odds by indexing odds available at all books and adjusting for book sharpness and hold.
If you haven't signed up for OddsShopper Premium, you can get access to all of our NBA betting tools for $49.95 per month. Make sure to use promo code "ISIROIS" at checkout for 20% off!
NBA Player Prop Pick: Devin Booker Under 7.5 Assists +102 at FanDuel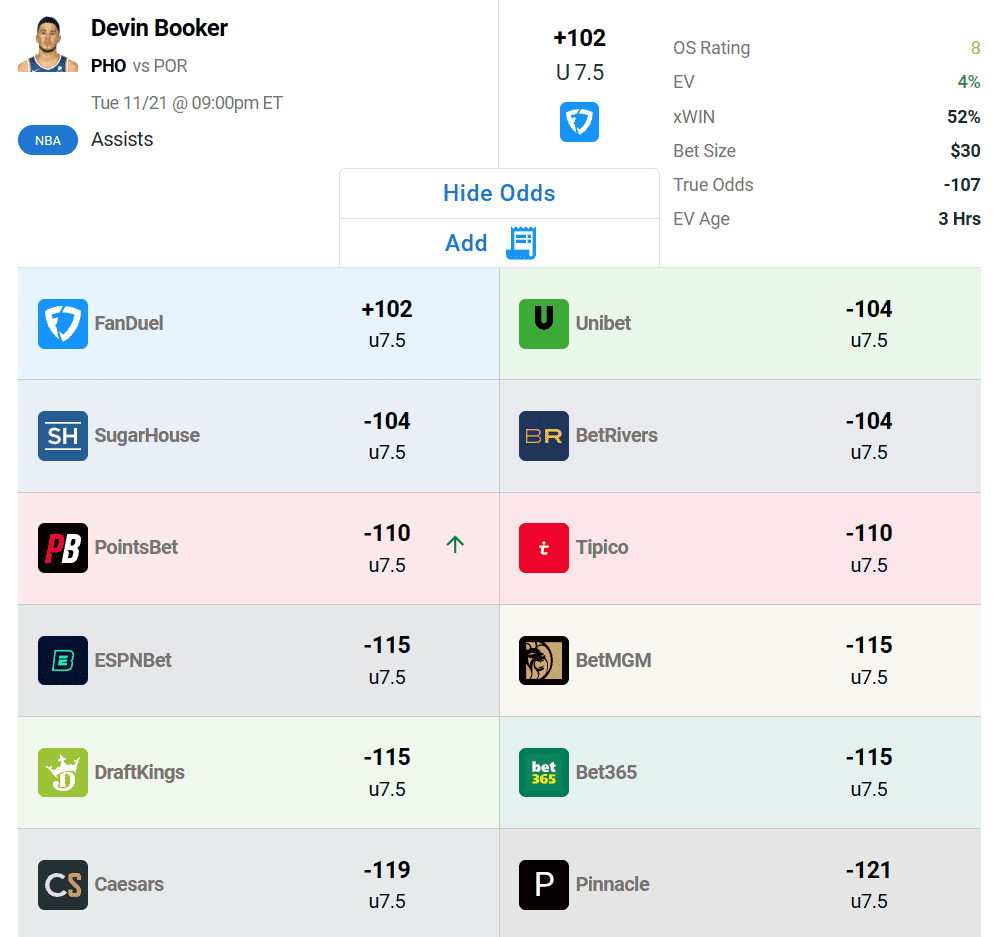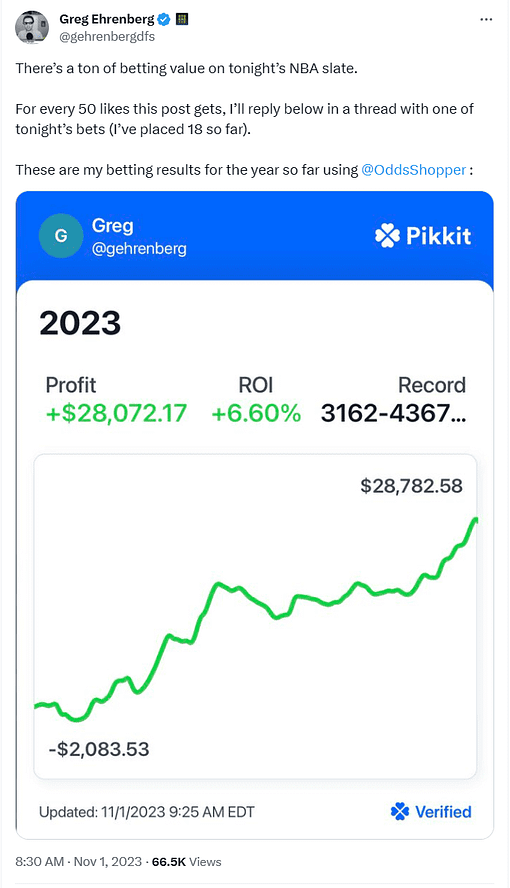 The Atlanta Hawks will play the Indiana Pacers in a game that the books expect to be incredibly high-scoring. The total sits in the 250s with the spread set such that both teams have implied totals in the 120s.
We're putting our action down on Dejounte Murray in this spot. Indiana's defense can't stop opposing teams in the paint, as they are coughing up the most made shots per game in the restricted area (24) and the most total points in the paint per game (62.7). That bodes well for Murray.
Murray may not lead the Hawks in drives (Trae Young does) or shots taken in the restricted area per game (Clint Capela does), but he ranks second and third, respectively. Murray's drives are arguably more valuable than Young's because he averages 0.6 points per drive versus Young's 0.5.
Murray also shoots in the restricted area, unlike Young. He averages 3.9 shots per game in that zone, converting 63.8% of his looks, while Young averages just three while converting 1.5% of the time. Young does more damage outside of the restricted area, but that's less of a vulnerability for Indiana.
You'll find Murray's points total set to 20.5 with the juice stacked on the under at public books and on the over at sharp ones. Buy the over -105 on BetMGM. New to BetMGM? Check out our BetMGM bonus code for free OddsShopper Premium and your first bet paid back as a bonus bet up to $1,500.
NBA Player Prop Pick: Dejounte Murray Over 20.5 Points -105 at BetMGM
OddsShopper's NBA Tools & Tips
Looking for more 2023-24 NBA predictions? OddsShopper's experts are here to break down this NBA season — make sure to check out the rest of our NBA articles. Still need more picks? Subscribe to OddsShopper Premium for our market-based betting model's picks and best bets.