A recent report about the Kyrie Irving trade saga has swung the NBA championship odds, with a new team entering the fray. Last night, Adrian Wojnarowski tweeted that the Clippers have firmly entered the Irving sweepstakes alongside the Lakers, Suns, Heat and Mavericks, and an Athletic report indicated that their offer to Brooklyn is quite strong. As a result, the Clippers' NBA championship odds have jumped ever so slightly.
The legal gambling age is 21+ in most states. Gambling Problem? Call or text 1-800-GAMBLER.
Clippers NBA Championship Odds After Kyrie Irving News
Check out BetMGM's updated NBA championship odds board below: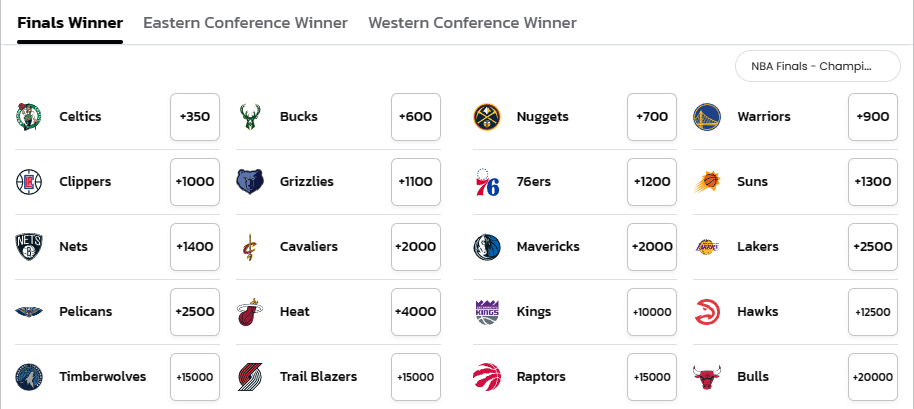 Per BetMGM's John Ewing, the Clippers' odds to win the NBA championship have continually shifted since Kyrie Irving's trade request became public. They have not jumped dramatically up the board, moving from +1400 to +1000 in the span of about 48 hours, but news has steadily favored the Clippers as a potential landing spot for Irving. Should they pull off the trade — and assuming it does not cost them Paul George or Kawhi Leonard in any way — expect the Clippers' title line to leap that of every team in the Western Conference, and possibly eclipse the Celtics for the top spot in the league.
Action Network's most recent update for Irving's next team odds still lists the Clippers as fourth-most likely to trade for him at +400, ahead of the Suns (+575) but behind the Lakers (+125), Heat (+275) and Mavericks (+375). Of course, the driving factor for which team to whom Brooklyn sends Irving will depend on the offer. And thus far, the only real report on a package heading Brooklyn's way comes from the Athletic's Law Murray:
"It would seem that [John] Wall, [Reggie] Jackson, [Robert] Covington and [Luke] Kennard are the primary trade candidates in a potential Irving deal."
Now, that seems unlikely to be a "strong deal" like Murray indicated in yesterday's report, as it is more or less a host of decent role players with little upside. It seems more likely that the Nets would choose a deal that includes picks, which is what the Lakers are reportedly offering. Still, Brooklyn could still be in win-now mode with Kevin Durant in town (for now), so maybe the Nets will instead look to fill gaps with the Clippers depth pieces.
Regardless, to this point no team has ascended the Kyrie Irving discussion more than the Clippers.