It was a short and largely uneventful run with the Cardinals for DeAndre Hopkins, and now the star receiver will ply his trade elsewhere. The Cardinals cut Hopkins today to save $8.15 million in cat space and essentially start a rebuild in earnest. As a result, Hopkins' next-team odds are running wild, and Super Bowl contenders dominate the top of the board right now.
Cardinals released DeAndre Hopkins. pic.twitter.com/c0f9UaabYA

— Adam Schefter (@AdamSchefter) May 26, 2023
AFC Contenders Dominate DeAndre Hopkins Next Team Odds
Take a look at the odds on DraftKings for DeAndre Hopkins' next team: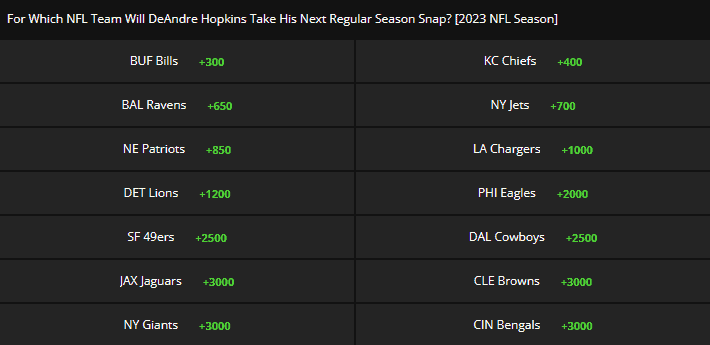 It makes some sense that the initial market for Hopkins' next snap has the best teams in the AFC at the top of the list. Reportedly the Bills, Ravens and Patriots are among the teams interested and are thus all better than +1000 to sign him, while the defending-champion Chiefs — severely lacking in the wide receiver room — are second on DraftKings at +400. Then there are the Jets at +700, who already added Aaron Rodgers and may be looking to add more star power to make the most of Rodgers' limited time left in the league.
The Chiefs and Bills are also among the teams with the least available cap space, so a lot would have to happen for them to be able to sign Hopkins. In contrast, the Jets, Ravens and Patriots have considerably more flexibility and would be able to make a move sooner if they so chose.
The Ravens already added Odell Beckham Jr. this offseason, but they could be a team to monitor (currently +650 for Hopkins) since they reupped with Lamar Jackson this offseason and may look to give him a high-end receiving core for once. For now, they sit behind the projected top-2 teams in the AFC in the Chiefs and Bills, who are currently +330 and +500 to win the AFC, respectively. Presumably, if one of these top AFC squads adds Hopkins, it will swing those odds even further, so stay tuned in the coming days to the DraftKings odds as the Hopkins sweepstakes progress.