There's plenty of drama built upon the shoulders of just Jalen Hurts and Patrick Mahomes alone, let alone everything else surrounding tonight's game. It's a rematch of last year's Super Bowl, a test for Andy Reid's impeccable record after the bye week and another shot against the only other team Reid's known — the Eagles. Still, the game comes down to Hurts versus Mahomes and which offense blinks first. Both are expected to lead plenty of scoring drives, so here are the best first touchdown props for Monday Night Football in Kansas City.
If you're hungry for more action, check out the rest of our NFL player prop bets, our NFL betting tools or our NFL betting promos.
Eagles-Chiefs First Touchdown Bet | Week 11 MNF
It's a little surprising that one of the more logical choices for a Philadelphia first touchdown currently sits at 7-1. The Eagles activated Cam Jurgens off the IR, boosting an already beefy offensive line. They also come off their bye, giving Hurts an extra week to rest his knee. The Chiefs defense is atrocious against the run, so Hurts should be able to find lanes in any designed run.
D'Andre Swift and Kenneth Gainwell both pose viable threats to Hurts, but the Eagles quarterback has proven to vulture short-yardage scoring opportunities with one of the most sure-fire weapons in the game. Any means to a drive that results in short yardage on the goal line will end with Hurts scoring. That's essentially built in.
The Chiefs do well against the pass this year, which should limit some early scoring chances up top. Philadelphia may get a little creative or hit the old Tush Push; either way, the play is on Hurts.
Eagles-Chiefs First Touchdown Scorer Bet for MNF: Jalen Hurts +700 at FanDuel Sportsbook for 0.25 Units
There's missing a player, then there's missing arguably the most popular football fan in the world. Taylor Swift will not be in attendance, so cross off chalk play Travis Kelce right away. Despite the Eagles pass defense being their weak link, there's added focus on not having Kelce beat them this time around.
Philadelphia has been stellar against the run, giving up 66 yards per game — a league best. It is averaging just 67 yards per game against over their last three contests. That's music to Andy Reid's ears, as all he wants to do is pass, and now he has a green light against a difficult run defense. The added pressure from the Eagles pass rush actually opens up one type of run — a quarterback scramble.
The Chiefs are a smart bunch when it comes to game planning opponents, so don't be surprised if a designed scramble from 12 to 15 yards out gets Mahomes in first. The Eagles ferocious pass rush may simply chase him out, forcing Mahomes into a run-and-score scenario. Take the value here at 17-1.
Eagles-Chiefs First Touchdown Scorer Bet for MNF: Patrick Mahomes +1700 at DraftKings for 0.25 Units
OddsShopper's NFL Tools & Tips
New to sports betting? OddsShopper's selection of Betting 101 articles is here to help. Check out our guide to finding positive expected value (+EV), and you can unlock more +EV plays by signing up for OddsShopper Premium! Don't believe OddsShopper will change your betting results? Check out Greg Ehrenberg's profits: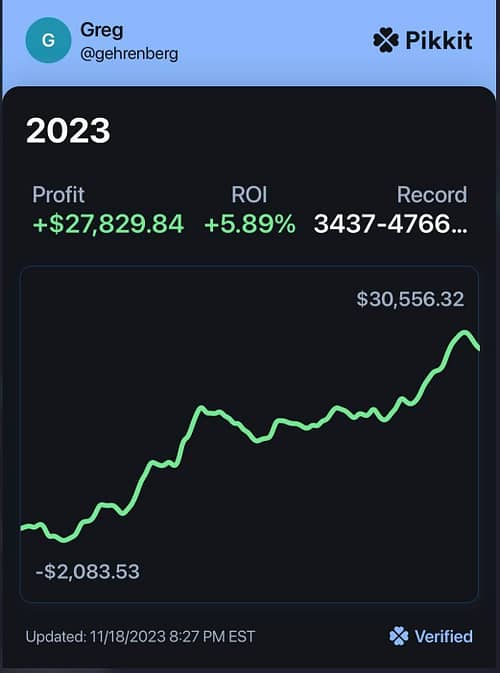 This right here is the OddsShopper difference.