It's time to continue our Lindy's Best NFL Locks series. For Monday's expert NFL picks, a matchup of superstars is instead being dominated in the model by a young rookie making a name for himself, and he headlines Eagles-Chiefs locks. Let's get into some Monday Night Football bets.
Expert NFL Picks Today: Eagles-Chiefs | November 20
Coming off the momentum of a competitive primetime game (for once) between the Broncos and Vikings on Sunday night, Monday comes in with sky-high hopes. It's a runback of last year's Super Bowl of Eagles versus Chiefs, albeit in a very different atmosphere. For one, it's taking place at Arrowhead Stadium in Kansas City, one of the biggest homefield advantages in the NFL. And two — the thing it would appear everyone is keying in on — the weather looks cold and wet with a steady rain expected until 10 p.m. local time.
But with mild wind (10 mph sustained in Kansas City is normal) and elite quarterback play from both Patrick Mahomes and Jalen Hurts (seriously, they're good), it would appear I'm not slashing my offensive outlook for this game nearly as much as the public. That doesn't mean I'm interested in touching this 46 total, but I'm certainly keying in on a few pass catchers from each side. And while the Chiefs' wide receiver opportunities are already diluted, I'm fairly confident Rashee Rice is dramatically under-projected at his current receiving yardage prop of 43.5 (-110) over at BetMGM.
From a market-based perspective, sharp sportsbooks have 43.5 receiving yards for Rice in the -135 range as of writing. A 25-cent difference on the identical line is always a noticeable margin, and one you could blindly back without any further analysis. But from a football perspective, the Chiefs rookie saw a season-high 68% of the offensive snaps in Week 9 before their Week 10 bye. And while he only saw an 8% target share, the game script dictated extremely conservative, run-heavy football in the second half due to a 21-point lead at halftime versus the Dolphins. So I expect a tick up in his target share and his opportunities, and for him to lead the Chiefs wide receiver room in offensive snaps in tonight's festivities. That makes him an excellent play to exceed 43.5 yards as long as you're getting -120 or better to make the wager.
Expert NFL Picks Today: Rashee Rice OVER 43.5 Receiving Yards -110 (LOCK) at BetMGM
Find all of Lindy's Locks on YouTube or find him in our Insider Access Discord!
New to sports betting? OddsShopper's selection of Betting 101 articles is here to help. Check out our guide to finding positive expected value (+EV), and you can unlock more +EV plays by signing up for OddsShopper Premium! Don't believe OddsShopper will change your betting results? Check out Greg Ehrenberg's profits: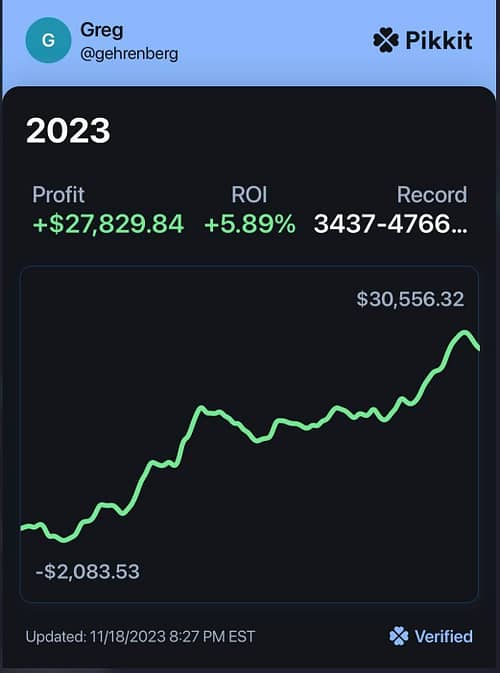 This right here is the OddsShopper difference.