The Minnesota Vikings fell flat on their faces last week against the Dallas Cowboys and the NFL's best pass rush. They don't have an easy bounce-back opponent this week, either, facing the New England Patriots and the NFL's second-best pass rush on a short week without starting left tackle Christian Darrisaw. The Vikings are still a narrow home favorite, but the spread has slowly been moving against them. With the Vikings success this season, it does feel like they're due for a letdown game. Bettors looking for a positive return should tail this Patriots-Vikings prediction, odds and pick,  or check out OddsShopper's tools for other smart plays.
[osoddswidget]
Patriots Lean on Elite Pass Rush
The New England Patriots (6-4) are one game behind the Buffalo Bills and Miami Dolphins in the AFC East. However, a loss to the Vikings on Thanksgiving would push them behind the New York Jets.
The Patriots rank 11th in total defense-adjusted value over average (DVOA) but haven't done much on offense this season. It ranks 26th in offensive DVOA and 20th in yards per play (5.2). They haven't found an edge on the ground, where they rank 24th in expected points added (EPA) per play (-0.08), or through the air, where they rank 25th (-0.05). Quarterback Mac Jones ranks 23rd among the 35 quarterbacks with at least 125 passes in net yards per attempt (NY/A) with 5.8. Jones does rank fifth in completion percentage (68.7%), but he has taken too many sacks and ranks 21st in on-target throw percentage (74.2%).
New England's offense has operated at a deliberate pace under new play-caller Matt Patricia. The Patriots rank 30th in seconds per play (31.2) and 26th in plays per game (60.6). This has emphasized the team's strength — defense — by keeping the unit fresh and on the sidelines. But the offense has too often relied on getting short fields from the defense and special teams.
The Patriots should still terrify opponents because of their defense. New England ranks second in both pressure percentage (29.8%) and sacks per game (3.6). The defense leads the NFL in EPA per pass (-0.16) and ranks 10th in EPA per rush (-0.1). Opposing teams have averaged only 4.9 yards per game against the Patriots, which ranks sixth, and the Jets earned just 2.1 last week. Edge rusher Matt Judon leads the NFL in sacks (13) and is third in quarterback hits (21).
Vikings Trusting Kirk Cousins
The Vikings (8-2) are overrated, so sharps correctly backed the Cowboys and made plenty of money. Minnesota ranks just 24th in total DVOA, 19th in yards per play (5.3) and 30th in yards allowed per play (5.9). Few teams would have eight wins with those numbers. QB Kirk Cousins and head coach Kevin O'Connell have gotten lucky.
O'Connell runs a fast-paced, pass-heavy scheme. The Vikings rank fourth in seconds per play (27.1) and third in passing play percentage (64.3%). They stuck with this game plan against the Cowboys and it backfired immensely: The Vikings allowed Cousins to face pressure on 40% of his dropbacks, and he completed only 52.1% of his passes for 105 yards and 1.87 NY/A. Cousins took seven sacks for a loss of 49 yards. Kirk Cousins has completed only 37.5% of his throws under pressure this year, so bettors should expect more of the same on Thursday night.
The Vikings will be the second team to face the Cowboys and Patriots in back-to-back weeks. The Detroit Lions lost 29-0 to the Patriots and 24-6 to the Cowboys as the pass rushes racked up pressure on more than 30% of dropbacks. The Vikings will have the added disadvantage of losing Darrisaw, who had the unit's highest Pro Football Focus grade. Backup Blake Brandel has a PFF grade of just 44.2 on 79 snaps played.
Minnesota's defense isn't terrible but won't be able to bail out the offense. Although the unit is seventh in EPA per rush (-0.11), it is 17th in EPA per pass (0.07). The Vikings have given up 400-plus yards and 30-plus points over their past two games. The Vikings rank 31st in passing yards allowed per game (267.3) and just 20th in pressure percentage (20.9%).
Final Patriots-Vikings Prediction & Pick
Bettors who tailed the early bets column got in on New England before the spread flipped under the key number of 3. The Patriots have drawn 51% of the cash on just 32% of the bets, so the line movement makes sense. New England's moneyline has drawn 57% of the cash on 36% of the bets. The public has been remarkably willing to back Kirk Cousins in prime time despite his 10-18 record in the spotlight.
Instead of playing the spread, bettors can find some value on the moneyline and Minnesota's team total. Backing the Patriots to win this game, which they need to do at a 45.6% rate for a moneyline bet to have positive ROI, feels sharp. Betting on the Vikings to score fewer than 22.5 points also feels sharp, because the Patriots have allowed only 16.9 points per game, and the Vikings have averaged only 22.9 points per game.
Final Patriots-Vikings Pick: Patriots Moneyline (+120 for 0.42 Unit) at DraftKings 
Vikings Team Total Under 22.5 (-115 for 0.58 Unit) at BetMGM
OddsShopper's industry-leading tools allow bettors to identify the best available lines on all sorts of betting markets, from traditional spreads and totals to player props — and even quarter- or half-based derivatives! Bettors can sign up for an OddsShopper account to access our model's predictions and best bets for each game. For the Thanksgiving matchup between the Patriots and Vikings, the model has identified a New England receiver as a player to buy at his current price.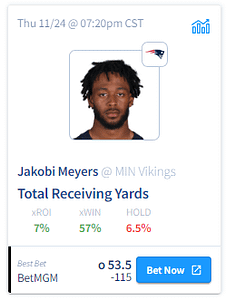 Betting the over on Jakobi Meyers' total receiving yards yields the highest expected ROI of any prop, spread or total for this game. Bettors looking to take advantage of that line can head to BetMGM for the best price on the market!