Spring Training kicking off means it is time to visit the MLB award odds board and see where things are falling in late February. Here we will cover National League Cy Young odds, a board that is packed with nothing but familiar names. Let's look at NL Cy Young odds and see if there are any value spots.
Legal Gambling age is 21+ and present. Gambling Problem? Call or text 1-800-GAMBLER
Per DraftKings: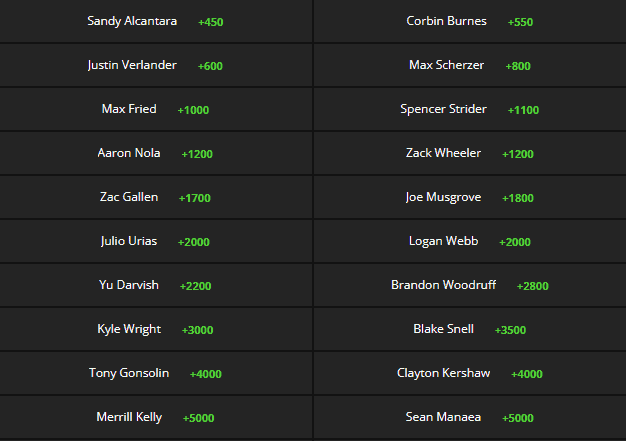 This is the the one award spot where the odds are decidedly uncreative. The top two spots are occupied the two most recent National League Cy Young Award winners (Sandy Alcantara and Corbin Burnes), and No. 3 is last year's American League winner (Justin Verlander). Then three-time winner Max Scherzer is fourth. It is tough to blame Vegas here since few of the names below those four really jump out as contenders, save for the last two runners-up in Max Fried and Zack Wheeler. Wheeler and Fried will likely get a decent amount of money, and Fried is hitting prime pitching age at 29.
Fried's teammate Spencer Strider is an interesting play at +1100. He is coming off an outstanding rookie season that saw him just miss Rookie of the Year, losing out to another Brave, Michael Harris. Strider posted a FIP that would have led MLB if he had innings to qualify, and his ERA+ would have been 10th. In other words, at age 24 and in his first full season in the big leagues, Strider was one of the best pitchers in baseball. Of course, the fear with Year 2 players is the dreaded sophomore slump, and plenty of incredible rookie seasons have gone on to be a pitcher's lone great year. But Strider is already pushing Fried to be the ace of the Braves staff, and though +1100 is not quite as long as one would like for a flier, Strider is the name that pops the most in that range.
Another guy who jumps out is Zac Gallen at +1700. Gallen's breakout 2022 kind of came out of nowhere, as his career numbers were largely pedestrian in his three seasons prior. But last year Gallen took off and posted the National League's best WHIP, ultimately finishing fifth in Cy Young voting. Gallen will be 28 in August, hitting that prime age when pitchers often take off, and Alcantara winning last year showed that mediocre teams can still produce Cy Young winners if the pitcher separates enough from the field. That is good for Gallen since the Diamondbacks are -750 to miss the playoffs, and he has the stuff to have an Alcantara-esque season.
The best value to take the leap to greatness is probably Julio Urias at +2000. He led the National League in ERA and ERA+ last season, finally reaching the potential promised of him when he was a top prospect in 2016. The one thing holding back Urias right now is his strikeout numbers, which are relatively modest for an ace. But matching Alcantara's 207 strikeouts from last year, which were fourth in the NL, would only be a slight uptick of about a strikeout per start for Urias. That is certainly attainable and would immediately push him to the very top of the contenders list.
Unlike MVP, which has some reasonable fliers down the odds board, Cy Young has virtually no longshots with any viability. The obvious guys are the past winners in Blake Snell and Clayton Kershaw, but Snell is not particularly close to the pitcher he was in 2018. Kershaw is at least still a legitimate All-Star and putting up really good numbers; unfortunately, he has to deal with comparisons to his past self, who is an MLB pitcher Mount Rushmore contender. If Kershaw pitches a full season and can repeat his 2022 numbers — 2.28 ERA, 0.942 WHIP, 184 ERA+ — he will be in the discussion. But at 35 (in March) and with a few injury-riddled seasons behind him, that is a big if.
Brandon Woodruff is another decent value at +2800 since he was also recently a Cy Young contender (fifth in 2021). His 2022 was strong, but Burnes' season was better and it is difficult to contend for an award as the second-best pitcher on the team. Still, Woodruff is not yet out of prime age and could realistically usurp Burnes for Milwaukee's No. 1.