Spring Training kicking off means it is time to visit the MLB award odds board and see where things are falling in late February. Here we will cover National League MVP odds, which feature a whole bunch of names with realistic chances of taking home top honors. Let's look at NL MVP odds and see where the value is.
Legal Gambling age is 21+ and present. Gambling Problem? Call or text 1-800-GAMBLER
Per DraftKings: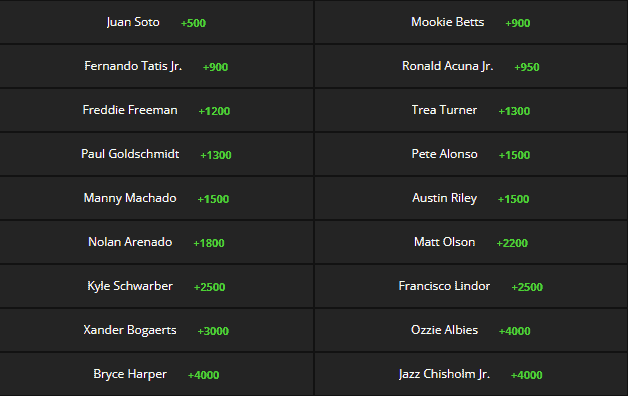 Unlike the American League MVP odds, which are largely chalk relative to recent seasons and do not feature many major team changes, the National League is awash with shifting odds and circumstances. There are at least three points of flux just in the top 6, with Juan Soto getting his first full season with the Padres, Fernando Tatis Jr. returning to said Padres after a year-long absence, and Trea Turner departing the Dodgers for the Phillies. Last year's winner, Paul Goldschmidt, is down to seventh on the board at +1200, while the other two top-3 finishers from 2022 — Manny Machado and Nolan Arenado — are ninth and 11th, respectively.
The odds board is dominated by a select few teams. The Padres have four guys in the top 18 (Soto, Tatis, Machado, Xander Bogaerts), as do the Braves (Ronald Acuna, Austin Riley, Matt Olson, Ozzie Albies). The Phillies have three (Turner, Kyle Schwarber, Bryce Harper), the Cardinals (Goldschmidt, Arenado) Mets (Pete Alonso, Francisco Lindor) and Dodgers (Mookie Betts, Freddie Freeman) each have two, and the Marlins round it out with Jazz Chisholm at No. 18. In other words, if wagering on this award, one has to ignore the potential for teammates splitting votes since every frontrunner is going to deal with that possibility.
Soto makes sense as the favorite at +500 since he has turned himself into an elite hitter and is now on a contending team, but he was also not among the NL leaders in WAR in 2022. He also does not add as much defensive value as Betts or Turner, though neither does his teammate Tatis. All told, Betts, Turner and Acuna offer a bit more value at slightly longer odds, and Freeman and Machado offer a ton of upside as guys who have made noise in the MVP voting in recent years.
Goldschmidt obviously cannot be discounted either, but National League repeat MVPs are even rarer than AL ones, as no one has repeated in the NL since Albert Pujols did it in 2008 and 2009. Plus, Goldschmidt is entering his age-35 season. He is not out of the running, but he does not offer as much value as some names below him like Riley or Machado.
Harper could be a decent longshot at +4000, but it requires taking on quite a bit of risk. For one, he is recovering from wrist surgery and will miss at least a month. And then there is the matter of Philadelphia's division, which has become a gauntlet, with the Mets, Braves and Phillies all in the top 6 on DraftKings to represent the National League in the World Series. That said, Harper somewhat comfortably won MVP in 2021 playing 141 games for the Phillies, and if he gets to 130-ish games with elite numbers, he could keep himself in the running.