Per usual, Friday in the MLB features a massive slate. There are 13 games on this slate, and today's parlay is a Prop Party Parlay, which features up to FIVE Player Prop bets with the best chance to win based on Stokastic's simulations. The prop party is the most popular betting combo within the Stokastic community and Alex "Awesemo" Baker — the world's No. 1 daily fantasy player — uses these almost exclusively when he's looking for an edge. For this piece, we will use the OddsShopper MLB Parlay Builder paired with the Stokastic MLB projections to make the best MLB picks and parlays today.
MLB Picks and Parlays Today 8/5
To make this parlay get to five props, David Peralta needs to be involved. Since being required by the Rays, Peralta is batting 4-for-16 with only one extra base hit. Looking at his season, Peralta has an impressive .204 ISO, with that number increasing to .223 against right-handed pitchers. He has 12 home runs this season, and 11 of them have come against right-handed pitching. Tigers pitcher Bryan Garcia is starting for only the second time this season. In his lone start and appearance, Garcia allowed two earned runs, including one home run in only 3.2 innings and 68 total pitches. Garcia may not be in the game long, and the Tigers relievers have the lowest HR/9 of any relieving staff in the league. This should be a gimme for the parlay — take the under.
Best MLB Pick Today: David Peralta UNDER 0.5 Home Runs (-750)
This is another home run prop, but it is a little bit riskier since it involves Yordan Alvarez, who ranks third in the league in home runs with 30 this season. Like Peralta, Alvarez is another left-handed batter who will get the platoon split in his matchup against Bryan Shaw, who is allowing a career-high 1.60 HR/9. Shaw is basically a spot starter, as he hasn't pitched more than 2.1 innings all season. Since he may not be in the game too long, Alvarez will have to deal with some left-handed pitchers, which would bring his home run upside down considerably. Not only is Alvarez hitting the long ball at a great rate, but he also has a team-high .304 batting average and a .349 ISO. He may be due for another home run, but taking this under at a xWin rate of 89% feels very strong in this five-player parlay.
Best MLB Pick Today: Yordan Alvarez UNDER 0.5 Home Runs (-275)
Glenn Otto has a home matchup against the White Sox. It is a tough spot for him, as he has a loss or no-decision in seven straight starts. During that time, Otto has allowed 25 earned runs in 31.2 innings. He is also averaging only 74.6 pitches per game in his last seven starts. However, Otto has recorded four of more strikeouts in four of those seven games. Regardless, the matchup against the White Sox and their 26th-ranked strikeout rate as a team is indicating to take this under. Otto's 18.0% strikeout rate is not that high for a starting pitcher, and the White Sox are also implied for 4.4 runs while being a sizable favorite. Stokastic projects Otto to only capture 3.5 strikeouts in this matchup, which is well below this 4.5-strikeout prop line.
Best MLB Pick Today: Glenn Otto UNDER 4.5 Strikeouts (-135)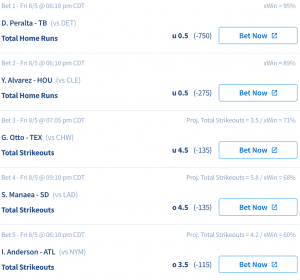 Sean Manaea in his first season with the Padres has been average by his standards, with a 4.25 ERA and a 24.0% strikeout rate. His biggest problem has been keeping the ball in the yard, as he is allowing a career-high 1.47 HR/9. Even with his home run numbers booming, Manaea has still escaped with a 6-5 record in his 19 starts. Manaea and the Padres will go on the road to take on the Dodgers tonight, who are implied for 4.8 runs. This is a very scary matchup, as the Dodgers lead the league in record and rank in the top five in ISO, runs scored and home runs this season. The only time Manaea has faced the Dodgers this season was in late April, so it has been a while. This prop seems quite low, as Manaea has recorded five or more strikeouts in 15 of his 19 starts this season, while Stokastic's MLB Model projects him for 5.8 strikeouts tonight.
Best MLB Pick Today: Sean Manaea OVER 4.5 Strikeouts (-135)
Despite this being the least likely prop to hit, Ian Anderson's over 3.5 strikeouts is still a strong -115 favorite with an xWin rate of 60%. Stokastic projects Anderson to record 4.2 strikeouts, which is more than enough to get the over in his matchup against the Mets. Even with a 9-6 record through 20 starts this season, Anderson only has a 20.2% strikeout rate. Judging by his last outing against the Diamondbacks where he struck out nine batters, one would think this is a ridiculously low prop line. He has struck out four or more batters in 13 of his 20 starts, which is good for a 65% hit rate. That is very close to Stokastic projections that have Anderson's xWin rate tonight at 60% to reach over 3.5 strikeouts. The Mets are a middle-of-the-road strikeout matchup, but Anderson has pitched so well lately that he is the perfect finishing prop to the Prop Party Parlay.
Best MLB Pick Today: Ian Anderson OVER 3.5 Strikeouts (-115)