It's time for Thanksgiving football. After beating the Cleveland Browns in Ford Field last Sunday, the Buffalo Bills will head right back to play the Detroit Lions on Thanksgiving. A quick look at the NFL odds reveals that the Bills are heavily favored to beat the Lions. That said, the Lions are on a three-game winning streak and could enter the playoff conversation with a few more wins. Bettors looking for a positive return on Thursday's early action should tail these Bills-Lions picks and predictions.
NFL Odds: Bills-Lions Odds
[osoddswidget]
Bills Dominant Under Josh Allen
The visiting Bills sit at 7-3 after a rocky two-week stretch that saw them lose to the New York Jets and Minnesota Vikings. However, they took out their frustrations on the Browns last week and earned an 8-point victory. The Bills lead the NFL in defense-adjusted value over average (DVOA) and have shown no signs of slowing down despite a lengthy injury report.
Buffalo's offense has leaned on Josh Allen and the passing game. The Bills pass on 60.8% of their plays, but it's worked out — they rank third in expected points added (EPA) per pass (0.24). Allen's 7.28 net yards per attempt (NY/A) ranks fourth, and his 21 passing touchdowns rank third. That said, Allen has tossed 10 interceptions this year on an NFL-high 25 interceptable passes. The Bills lead the NFL in giveaways per game (1.8) as a result. Fortunately, Allen is notably more efficient in a dome — he throws 2.75 touchdowns for every interception indoors, compared to just 2.12 touchdowns for every interception outdoors.
Buffalo doesn't have much of a running game. The Bills rank 28th in EPA per rush (-0.13) and Allen leads the team in rushing yards. The Bills rank 21st in rushing play percentage and third in yards per rush attempt (5.3) largely because of Allen's scrambling. That said, Devin Singletary and James Cook showed some signs of life against the Browns last week. The duo combined for 172 yards on 5.9 yards per carry.
For all their offensive successes, the Bills remain a defense-first team. They rank third in defensive DVOA and ninth in yards allowed per play (5.2). They rank fifth in EPA per rush (-0.12) and 10th in EPA per pass (0.1). They are also tied for the lead in interceptions per game (1.3). The unit ranks 15th in pressure percentage (22.8%) despite blitzing at the ninth-lowest rate (17.9%). The defense could prove a bit more vulnerable than usual with leading tackler Tremaine Edmunds out — the Browns averaged 5.8 yards per play against Buffalo when he sat out last week.
Lions Yet to Play Defense
The Detroit Lions do some things incredibly well. For instance, their offensive line ranks third in adjusted line yards and eighth in run-block win rate. The unit ranks second in adjusted sack rate and 18th in pass-block win rate as well. Still, the Lions rank only 16th in total DVOA.
Unsurprisingly, the offense has leaned on solid blocking. Quarterback Jared Goff has completed 63.9% of his throws and ranks seventh in NY/A (6.82). The Lions rank a solid 13th in EPA per pass (0.07). But Goff has taken only 15 sacks this year, inflating his NY/A, and has thrown only 50 pressured passes. He completed only 24% of those throws under pressure. Goff has also thrown 24 interceptable passes, which trails only Allen.
The Lions have run a balanced offense that features plenty of runs. They rank 11th in rushing play percentage (45.1%) and 16th in EPA per rush (-0.05). Jamaal Williams has handled the bulk of the work and just scored three touchdowns against the Giants last week. Williams ranks 11th among all running backs in rushing defense-adjusted yards above replacement (DYAR) with 98 — Cook and Singletary have combined for less than half that number.
Detroit's defense has undermined the team's respectable offense. The Lions rank 32nd in yards allowed per play (6.4) and fare poorly in the advanced metrics. They slot in at 25th in defensive DVOA but rank 30th in both EPA per pass (0.17) and per rush (0.4). Opposing quarterbacks have thrown for 273.6 yards per game against Detroit, and their wide receivers have gone for 190.5 receiving yards per game.
Final Bills-Lions Prediction & Pick
The Detroit Lions won't move the ball if Goff faces enough pressure. The Dallas Cowboys and New England Patriots, who own the NFL's best pass rushes, allowed a combined six points to the Lions this year. Goff faced pressure on 31.3% and 33.3% of his dropbacks against them, respectively. The Bills haven't generated tons of pressure this season, but they just pressured Cleveland's Jacoby Brissett on 33.3% on his dropbacks last week. Von Miller recorded six quarterback hurries.
The Bills should try to get the best of Goff by ramping up the pressure. Although they usually rush only four, the Bills still rank an impressive 11th in sacks per game (2.8). While Detroit's offensive line has excelled this year, it crumbled against the Cowboys and Patriots. Starting guards Jonah Jackson and Evan Brown appear likely to miss Thursday's action as well. Bettors should wager enough to profit a half unit on the Bills to cover — and enough to profit a full unit on the Lions to stay under their team total.
Final Bills-Lions Prediction: Lions Under 21.5 (-110 for 1.1 Units) at DraftKings
Bills -9.5 (-110 for .55 Unit) at DraftKings
Bills-Lions Prediction OddsShopper Model
OddsShopper's industry-leading tools allow bettors to identify the best available lines on all sorts of betting markets, from traditional spreads and totals to player props — and even quarter- or half-based derivatives! Bettors can sign up for an OddsShopper account to access our model's predictions and best bets for each game. For the Thanksgiving matchup between the Bills and Lions, the model has identified a Buffalo receiver as a player to buy at his current price.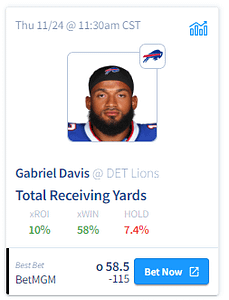 Betting the over on Gabriel Davis' total receiving yards yields the highest expected ROI of any prop, spread or total for this game. Bettors looking to take advantage of that line can head to BetMGM for the best price on the market!