The next time you find yourself asking, "How can I make money from my parlay bets?" remember that OddsShopper's parlay builder is out there to do the heavy lifting for you. The parlay builder currently supports bet365, BetMGM, BetRivers, Caesars, DraftKings, FanDuel, SuperBook, Tipico and Unibet, so if you're wondering how to make money on parlays at those books, we've got you covered. Make sure to check out our bankroll management tips and our guide to bonus bets as you embark on your moneymaking journey!
How to Make Money from Parlay Bets: Expert Tips & Advice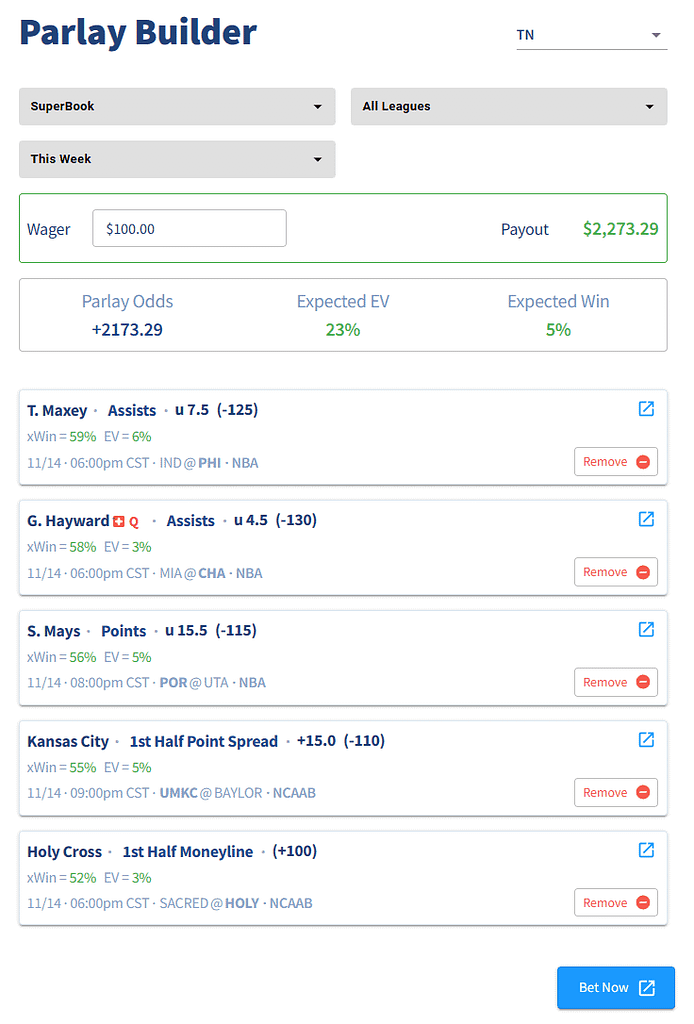 So you're hoping to start making money from your parlay bets — or maybe you're hoping to just start making a little bit more money from them: that's what OddsShopper's parlay builder is designed to help you do. The tool uses our industry-leading betting projections to help you find the most profitable lines for your parlays.
Let's dive into how the tool works. Whenever you boot up the parlay builder, you'll have the option to choose your state and sportsbook. The tool currently supports bet365, BetMGM, BetRivers, Caesars, DraftKings, FanDuel, SuperBook, Tipico and Unibet — from there, how to parlay is easy! Select your date range (today, this week or all days) then see what shows up.
In the screenshot to your left (or above, if you're on mobile), you'll see a five-leg parlay at SuperBook with a positive expected value (+EV) of 23% and an expected win rate of 5%. Although this parlay will win only 5% of the time, it has implied odds of just 4.4%, which means we're beating the book when it comes to this parlay. Simply click the "Bet Now!" button to get started building your parlay over at your chosen sportsbook.
How to Customize Your Parlay Bet
I'm sure you've got some questions. How do you customize your parlay, and how do our betting projections work? Our projections index the odds at every sportsbook, adjust for both hold and the sharpness of each book, then spit out an expected win probability, also called "true odds." When the true odds of a bet winning are higher than what the sportsbook is charging, you've found a +EV wager!
As far as how to customize your wager, the tab opposite the default picks generated by the parlay builder features a list of other +EV wagers you can add. Simply click "add" (if you don't already have a leg from that game) or "swap" (if you do) to modify your bet. You can also toggle "All Leagues" and "Matchups" to more quickly find the bets you want to place.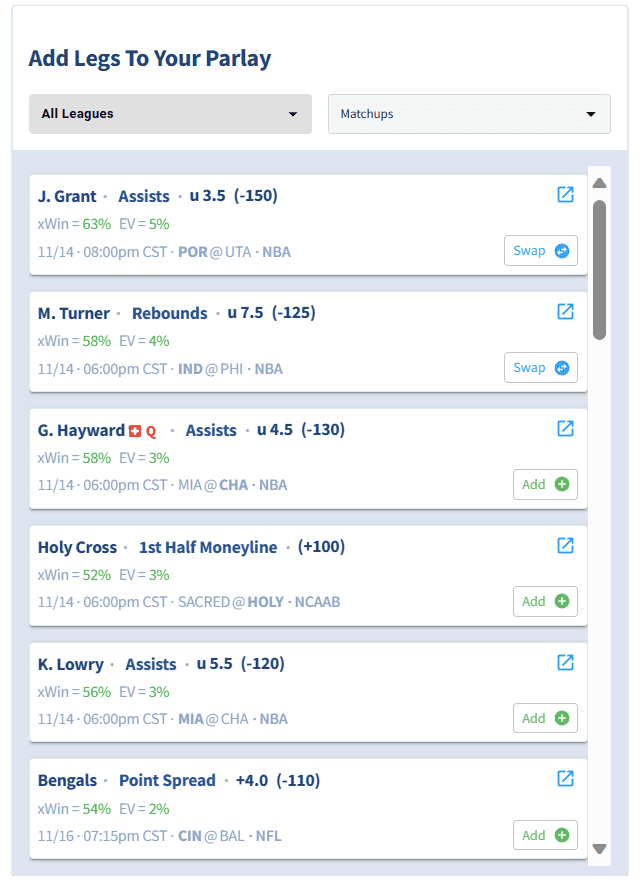 Wins are Fun, But Bet Responsibly
Although OddsShopper's parlay builder and betting projections are profitable (just check out Greg Ehernberg's Pikkit!), it's important to bet on parlays responsibly. Remember the parlay we discussed earlier with 23% EV? It also had an expected win rate of only 5%. You may only need to win a bet with odds of +2173 once in a while to make a profit, but you need to have money in your bankroll to stomach the loss that'll happen 95% of the time.
To bet on parlays responsibly, I have two tips. First, make sure to have a bankroll management strategy in place, whether you choose to use units or the Kelly Criterion. Either approach is a good way to ensure that you're prepared for when your parlay loses, which, odds are, will be most of the time.
Second, don't place too many longshot parlays. It feels great to cash a +2173 ticket, but a +235 ticket can have just as much +EV with a much higher win rate if you use the parlay builder wisely. If you're fiending for a big payout, consider placing a round-robin wager on your chosen picks instead. That way you'll get at least some money back if only some of your picks win.
Our betting projections can help you find sharp bets, but they can't bail you out if you fail to follow our bet sizing recommendations or employ otherwise smart bankroll management.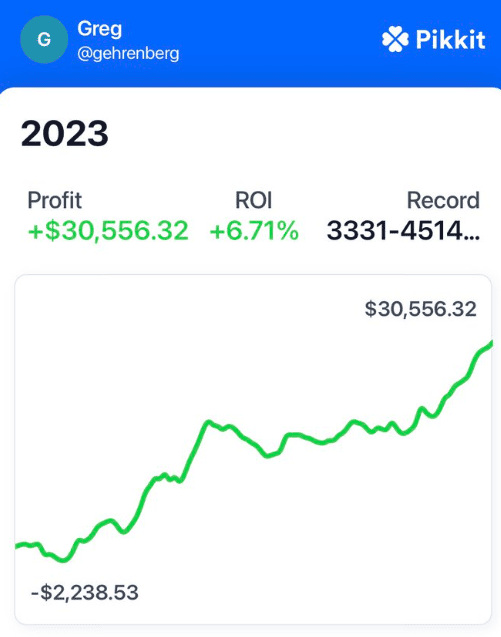 OddsShopper's NBA Tools & Tips
Looking for more NBA betting advice? OddsShopper's experts are here to break down this NBA season — make sure to check out the rest of our NBA articles. Still need more picks? Subscribe to OddsShopper Premium for our market-based betting model's picks and best bets and its tips on how to parlay at bet365, BetMGM, BetRivers, Caesars, DraftKings, FanDuel, SuperBook, Tipico and Unibet.

Get two months of Expert Picks and one month of OddsShopper Premium when you bet at
BetMGM
($260 value)