Underdog Fantasy's pick'em contests are a unique format that combines daily fantasy sports with individual player stat projections. Players love the unique experience and the new strategies for finding positive ROI plays on Underdog. The site is still new, and it has a lot of people asking one big question: where, or in what states, are Underdog Fantasy pick'em games legal? The answer is a bit more complicated than you think.
Potential Underdog Fantasy players should know that there are some cases where the answer isn't a simple yes or no. Four states have different legal age requirements for the app. Others, like Alabama, Arizona, Colorado and Indiana have special restrictions on Underdog Fantasy pick'em contests. Let's get into the weeds as we discuss the states in which Underdog Fantasy pick'em contests are legal.
The following are states where Underdog Fantasy Pick'em is legal, per their website: Alabama, Alaska, Arizona, Arkansas, California, Colorado, DC, Florida, Georgia, Illinois, Indiana, Kansas, Kentucky, Massachusetts, Minnesota, Mississippi, Nebraska, New Mexico, New York, North Carolina, North Dakota, Oklahoma, Oregon, Rhode Island, South Carolina, South Dakota, Texas, Utah, Vermont, Virginia, Wisconsin and Wyoming. UnderDog Fantasy Pick'ems are also available in all Canadian provinces except Ontario. UnderDog Fantasy Pick'em legal states are subject to change. Additional restrictions may apply in your state. Must be 18+ to play except in Alabama (19+), Arizona (21+), Nebraska (19+) or Massachusetts (21+). Please note that despite its inclusion in the graphic below, Underdog Fantasy Pick'em is no longer available in Maine.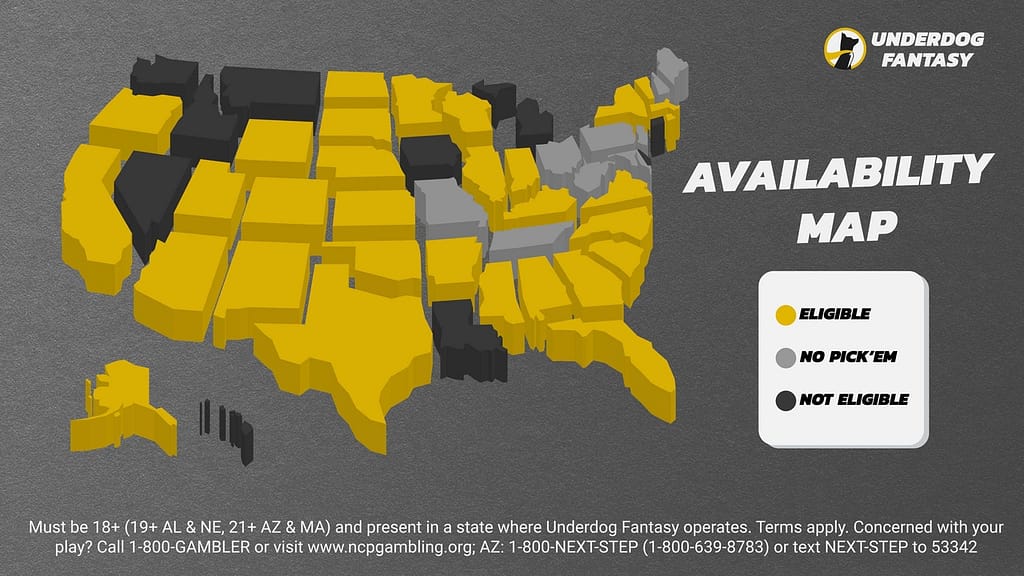 Check out OddsShopper's tools for winning UnderDog Fantasy Pick'em plays that are updated every day. Subscribe to our new Pick'em Package to gain full access. If you want to learn more about Underdog Fantasy Pick'em, check out our guide, see if it's legal in your state — or check out our breakdown of their Free Squares promotion.
Underdog Fantasy is legal in forty states. The site is not yet legal in the following states: Connecticut, Delaware, Hawaii, Idaho, Iowa, Nevada, Louisiana, Michigan, Montana and Washington.
If you are in one of those states, you can't play on Underdog Fantasy, yet. The platform is working hard to become legal in all United States locations, so you should continue to check back to see if anything has changed.
Users are able to access and play on Underdog Fantasy in all other U.S. states. However, they do have some stipulations depending on where you are located. Underdog Fantasy is currently legal in several states where the pick'em contests are not. Those states are: Maryland, Missouri, New Hampshire, New Jersey, Ohio, Pennsylvania, Tennessee, Washington and West Virginia. If you aren't in any of those locations, then you're good to go and can legally play on Underdog Fantasy.
Find offers below from DFS apps or sportsbooks available in your state.
Don't forget to check out OddsShopper's Underdog tool to build high ROI cards for their pick'em contests. Beating the house is hard, but OddsShopper's tools will ensure that you take advantage of all the edge for long-term, sustainable bankroll growth!